Do you love to play Royale Battle, of course, you are, as you are at this page where we are talking about Apex Legends, one of the best Royal Battle. However, the game Apex Legends is relatively bug-free but, some of the users are getting Apex Legends Error 105. This error code is not just showing a code only, but a message can also appear with this, which is "Oops something went wrong. Please try again later. (105)." So what if it happens, here in this guide, we have mentioned how you will deal with this error code.
Get stuck in the middle of a game is frustrating, and if it happens repeatedly then, it is much frustrating. Anyway, here is all about the error which is causing an issue to play the game. Let's start moving on the way.
What is Apex Legends Error 105, and when appears?
Generally, users are getting this error code when they are booting up Apex Legends on PS4 and Xbox One. This error code is appearing with a message, that says: Oops something went wrong. Please try again later (105). 
Due to this error code, users get stuck in the main menu, and won't be able to play the game. But, we can't wait, can we? Here is if you get this error code, what steps you will follow to get away from it.
Also Read: List of Apex Legends Mobile Beta Errors
Fix: Apex Legends Error 105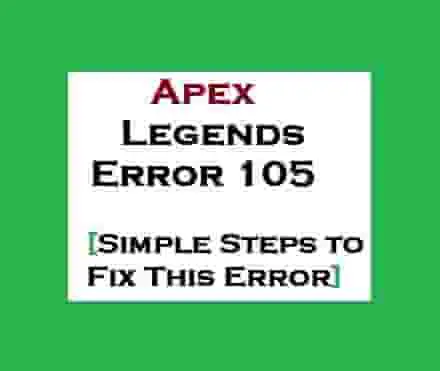 You know what? luckily, this is possible to fix this error code, and you don't need to do any supreme work for it. Then what would you have to do for this?
To fix Apex Legends Error 105 you have to go to the EA site and click on Login. Now maximum users are doing this fault that they are using their EA account details on the main input page to login. You just don't need to do this, instead of using EA account details, when you see below, you will see PSN and Xbox Live options respectively. You just have to click on either one of these options and use PSN ID or Gamertag details to log in.
Note: Make sure all the details you are entering are correct.
Once you enter your details and click on the login button, you will get a notification that will ask you to link your PSN ID or Gamertag to your EA account. Do so, and go back to Apex Legends on your selected platform. 
Do a quick restart of your device and then, start playing Apex Legends and enjoy.
Note: You must have an EA Account to link. In case if you don't have, create one, and then after that, follow the above steps.
Related:

Apex Legends Error Code 10011

Apex legends Error Code 9999

Fix Connection error 237 Apex Legends

Apex Legends Error Code 30005

Apex legends error code 100: Unable to Login on Switch