Many Apple TV, Apple Watch, and iPhone users are seeing an error code 6753 on their screens. However, the error code is the same for all devices, the indication is also the same, and that is- the setup failed. So, if you are an Apple Device user and getting this on your screen, let's troubleshoot together. 
Apple devices are mostly used and loved by millions of people. No one knows, which device will throw an error, the main thing that should be noticed is, how that error will be solved.
What does Error Code 6753 indicate on Apple TV or iPhone?
Error Code 6753 on Apple TV or iPhone indicates that the Setup or Transfer process has been interrupted. Users might face this error code while they change their Modem and go to Reconnect, transferring data from old iPhone to New iPhone, taking backup of the data, or trying to set up Homepod. In addition, Apple Watch users may also face this error when they try to connect it with other devices.
Fix: Error Code 6753- Setup Failed on Apple TV or iPhone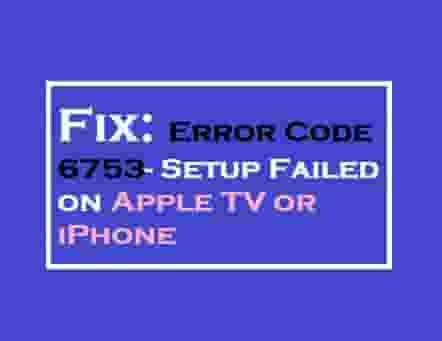 Fix Error Code 6753 on  Apple TV
There are two best possible methods to fix this error that many have applied and got resolved the issue.
Power Cycle Your Device
Power cycling is a very simple task to perform as no technical knowledge is required to do so. And additionally, if it works to fix an issue then, it becomes "ICING ON THE CAKE."
Just, unplug all the cables and leave them for 30 seconds then, replug all the cables and start setup your Apple TV.
Try Again
In most of the scenarios, when users try to set up their TV again, they found, it worked properly. So, you can also try this step, and hopefully, the second time, it will not happen that you see an error on the screen.
If didn't help, contact Apple TV Support, or you can look at related forums too.
Manually Setup Your Apple TV
Some users have got Error Code 6753 when they tried to set up their Apple TV with a device. This is an optional method, you should try this manually.
Apple has already provided a simple guide to Set up your Apple TV.
On iPhone: during the software updation
Did you get this error code during the software updating when some data transfer was in progress? If yes, then, stop data transferring and once the updation is completed, start it again. 
For more detail: you can visit this official article.
If you are getting this error while copying data from your old phone to a new one, you can use a quick start to do this.
A detailed guide is here.
Related Articles:

NowTV Error Code 6003

Roku Error Code 003