How to Get Crunchyroll on Samsung TV in 2023: Crunchyroll will be selected as one of your best platforms if you love streaming anime. As a lovable on-demand over-the-top streaming service, Crunchyroll has managed to win the trust of the people. 
Although the Crunchyroll app is available on multiple devices and platforms, Samsung Smart TV users struggle to get it on their TVs. Or you can say, they don't know the right ways to get it.
In this guide, you'll learn how to get Crunchyroll on your Samsung Smart TV, even when its app is unavailable.
Can You Get Crunchyroll App on Your Samsung TV?
Samsung Smart TVs use Tizen OS which is not supported by Crunchyroll. Hence, on your Samsung TV, you cannot get the Crunchyroll app. The app is easily available on all Smart TVs that use the Android OS.
Here is a list of the devices that Crunchyroll support:
Wii U 
Chromecast
Xbox One
Xbox 360
PlayStation 5
PlayStation 4 
PlayStation 3
PlayStation Vita 
Apple iOS
Android
Windows Phone 
Apple TV
Roku Box 
Fire TV.
Note: Samsung TV is not included in the list because it is not available on Tizen OS.
How to Get Crunchyroll on Samsung TV?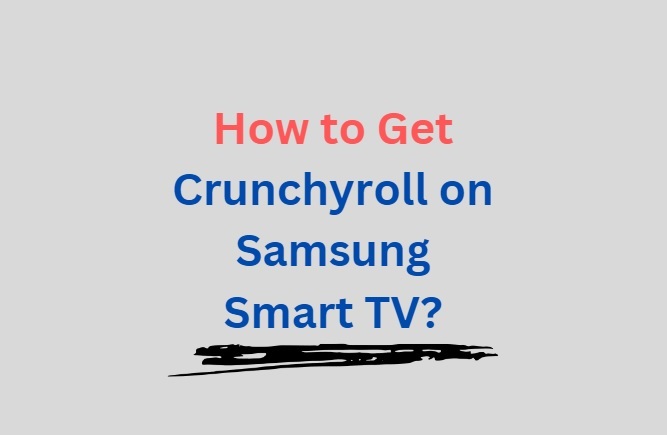 You can get the CR on your Samsung TV in these 4 ways:
By Casting the CR from your Phone app.
By attaching a streaming device to your TV that is supported by Crunchyroll.
Using Gaming Consoles.
Using Samsung TV internet browser.
#1. Casting the CR from your Phone app
A- Samsung Phone
Connect your Samsung TV and smartphone to the same network.
Unlock your phone and open the quick panel.
Tap on "Smart View" and select your TV from the device list.
On your TV, select "Allow".
A popup message- "Start casting with Smart View?" will appear.
Select- "Start now".
Enjoy Crunchyroll on your TV.
B- Other Android Phones
Connect your phone and the TV to the same network.
Open the default screen-sharing app (e.g. Google pixel phones – Google Cast, Xiaomi phones – Cast, Oppo phones – Screencast, LG phones – Screen sharing, Huawei phones, HTC, Asus, Sony Xperia, OnePlus – Wireless Projection) and select your TV to connect.
C- iPhone/iPad 
Make sure your phone and the TV are connected to the same network.
Now, turn on AirPlay on your Samsung Smart TV. To do this, follow this path- Settings > General > Apple AirPlay Settings.
Open the Crunchyroll application on your phone (iPhone/iPad) and start playing the content you intend to cast.
On your phone, swipe up, access the Control Centre, and tap AirPlay or Screen Mirroring. Alternatively, you can click on Share on the media, then click on Airplay.
Now, select your TV. A code will appear on the TV screen.
Enter this code on your phone and tap on OK. 
Now, you are ready to go.
#2. Attach a streaming device to your TV that is supported by Crunchyroll
Attach a streaming device such as Amazon Firestick, Apple TV, Roku stick, and Chromecast to your TV.
These devices are supported by Crunchyroll.
Download Crunchyroll on your streaming device and send Crunchyroll content to your Chromecast device using iOS or Android apps.
#3. Use Your Gaming Console
If you have a gaming console such as PlayStation 3, PlayStation 4, PlayStation 5, Xbox 360, and Xbox One, it would be very easy for you.
Connect your console to your Samsung Smart TV and start playing content on Crunchyroll.
#4. Use Samsung TV internet Browser
Samsung Smart TV has an inbuilt browser.
Open the browser, and type- crunchyroll.com.
Once the website is open, login to your Crunchyroll account.
Start watching your favarite content.