Get stuck and you don't have any idea on- How to delete the Paramount Plus account? Then, this is the guide on which you can trust and get your answer.  
In 2022, there is a huge hike in the users of OTT platforms, especially from the time when the pandemic started. Movies theatres are closed however now in some places some are being started with some capacity or full capacity but still, users love to watch movies and shows on OTT platforms.
Most OTT platforms come with a subscription plan and allow users to get entertained by paying a little bit amount of money. Whereas some come with a free trial for some days, and after completion of the days of the free trial, they cost some money.
Deleting accounts on OTT platforms is simple but on a few platforms, this is not an easy task, or users are not allowed to do this on their own. If you are a Paramount Plus user and looking for the steps to delete your account completely then, this guide can help you.
Complete Process To delete Paramount Plus Account
To delete your Paramount Plus Account, you have to contact Paramount Plus customer service. You have to fill out a form where you will ask to fill in some information such as your name, email address, category, Zip code, etc.  Once you fill this form with the correct information, you have to complete a captcha and then, click on the submit button. After that, the Paramount agents will reach to you as soon as possible.
Also Read: Fix Paramount plus error code 1106.
When the Paramount agents reach you, you can ask them to delete your account. Confirm the answers to the questions asked by the agents, and all are done. They will remove your account completely.
Make sure, you will not tell any billing information such as your card details or something else. For any query, you can contact on the number- 1-888-274-5343 or you also have options to get in touch via visiting tier social channels such as Facebook, Twitter, or Instagram.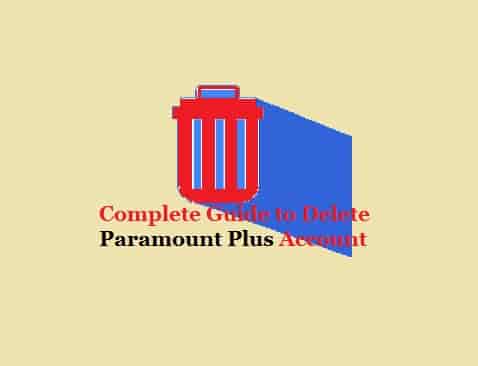 Cancel Paramount Plus Subscription
If you just want to cancel your subscription on Paramount Plus then, the steps mentioned below are for you. According to the most popular platforms, we have included their respective steps to do this. You will definitely enjoy it.
Cancel Paramount Plus Subscription Web Browser
Web browser users can cancel Paramount plus subscription by visiting Paramountplus.com. Next, click on the profile and select Account from the list. Now, select cancel subscription from the screen options.
Cancel Paramount Plus Subscription on Android
Go to the Google Play Store.
Click on the three horizontal lines and navigate to the subscription.
Search for the Paramount Plus and when found, select and click on the Cancel Subscription. 
Now, follow the instruction until the process is completed.
Cancel Paramount Plus Subscription on iPhone 
Open Settings and click on your name.
Open Subscriptions or iTunes & App Store and select your Apple ID.
Now, scroll down to the subscriptions option and search Paramount Plus to select it.
Next, click on Cancel Subscription and tap again to confirm your selection.
Cancel Paramount Plus Subscription on Fire TV or Fire Stick
Navigate to the Memberships and Subscriptions.
Once found Paramount Plus, Click on Manage Subscription.
Now, click on the link under Manage Your Prime Video Channels.
Under that, look for Paramount Plus and then select Cancel Channel and Confirm your selection again.
Roku TV users
Access your Home Screen and select Paramount Plus Chanel.
Press the * button on the remote and select manage subscription open then, select cancel subscription. That's it.
FAQs
What are the steps to cancel the Paramount Plus subscription?
Visit Paramountplus.com -> click on profile -> account -> click on cancel subscription.
What does the price Paramount Plus takes to stream content on it?
Paramount Plus Essential cost- $4.99/month.
Paramount Plus Premium cost- $9.99/month.
Ad-free account- $99.99/annually.
What is CBS All Access?
Paramount plus, which is formerly known as CBS All Access.