Apex legend is a quite popular game and has good users from all over the world. This game is recently launched for Nintendo switch and from the day of release, users are reporting Apex legends error code 100 that is, they are unable to log in on the switch. Like all errors, it also has solutions, as it is a simple network error. 
What is Apex legends error code 100 and what causes it?
Error code 100 on Apex Legend is a network error code that appears when users try to log on the switch to play the game. Many people are getting this error code due to the wrong time and date settings. So if you want a quick solution to this error code, you have to go to your console setting and check if the time and date are set properly.
This was a quick solution to fix this error code. But if anyhow this not works or you don't have an idea how you can set the date and time in your console then, you should read this guide to the end.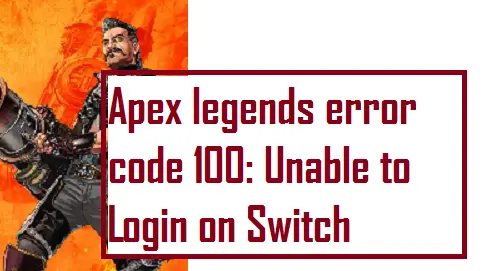 Fix Error Coe 100: Can't log in to Apex Legends on Switch
As we discussed above in very short that this error code is mostly appearing due to the wrong date and time, you should first make this correct. Next, we have also discussed other workaround to fix this issue. Let's start with the first workaround and that is:
Set the Date and the Time Properly
Wrong date and time is the major reason behind Apex legends error code 100, and you can set it properly by following mentioned steps. 
Check for the Time and Date setting.
Set the time and date to the present.
Next, go to the other setting option and you will see an option- Services authorized to receive this account's information, click on it. From her grant the permission to EA and try to sign in again.
Most probably the issue will resolve by this but, If the issue is still, try to create a new account.
Try to Create a New Account
Some users found that creating a new account with matching date of birth helped. So if the above method doesn't help, you can create a new account to fix the error code.
Create a new local account with a new Email address.
In the meantime, create an account for the Nintendo website.
Link these two accounts now.
Use your 18+ date of birth EA account if you do not have one then, create a new one.
Start the Game and the system will recognize a new EA account, login in now. That's it.
That's all about the Apex legends error code 100. If you have any other method to fix this error code, then do not hesitate to tell us in the comment section.