Spotify is a convenient app that can easily run with 2G, 3 G, or 4G, which is quite good. However this application offers a premium membership but, you can use this for free also. If you are on this webpage then, surely you are a Windows 10 user and looking for how to uninstall Spotify on Windows 10. 
Using a mobile application of Spotify is smoother than its desktop version. Why? Because in the desktop version, you may face several issues like playback errors, battery issues, etc. We don't say that the mobile application is error-free but, rarely affected rather than its desktop application. 
So in this situation, uninstalling Spotify is the only option for you, but this is easy to say than the done. Many possibilities that you may face a "can't uninstall Spotify" issue when you go to uninstall the Spotify desktop application from your Windows 10 PC. 
Uninstall Spotify on Windows 10 PC
We have announced three easy methods to uninstall the Spotify desktop application.
Disable your Antivirus and use any of the above two methods.
Using Windows Settings
This is the first method, and of course, this is effective. 
Just click on the Windows icon on your computer and type Program Uninstall in the search bar.
Click on the Apps and Features option from the list.
Now, a new screen will open with the list of applications and features.
Scroll down and find the Spotify application.
When you find the application, click on it and select Uninstall option.
Uninstall Spotify via Control Panel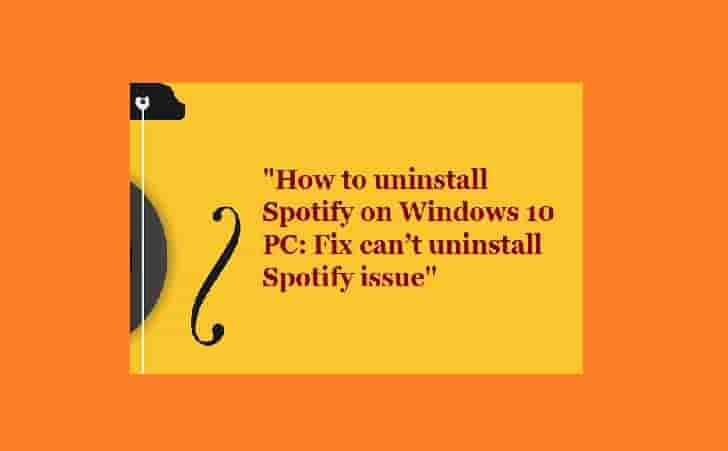 The Control panel stores many features like you can manage an application, and perform many other tasks through it. This method only works if you didn't download the Spotify application from the Microsoft Store. This only works for uninstalling the desktop application.
Select Uninstall a program under Programs Section, when the popup appears. Or you can just simply Open Control Panel, and click on uninstall a program under the Programs section.
Scroll down the list of programs and find Spotify.
Click on the name of the application and select Uninstall.
All Set.
Disable Antivirus and try again
Why we have included this as the third method because, if you have installed Antivirus software on your Windows 10 PC then, this may possible that the above two methods won't work. So. in this state, you just have to disable your Antivirus on your Windows 10 pc for temporary and then, you are free to select any of the above two methods.
FAQs
How do I reinstall Spotify on my Windows 10 PC?
Once the uninstalling process is completed successfully, it is a very easy process to reinstall the application on your PC. (Windows 10)
Click on the download option on the top right section of the screen.
When you click on the Download, files will start downloading and once the download is completed, open the downloaded file.
Follow the steps that appear on your screen, and complete the installation process.
How do I fix can't uninstall Spotify?
You can fix the can't uninstall Spotify issue by selecting the method either using settings or using the control panel to uninstall it. If still, you are unable to uninstall the application, disable your antivirus and try again.