Have you been just trying to access your Spotify account and getting Spotify Error Code Access Point 31 on your screen? This is a quite frustrating moment when an error stops your entertainment journey but, don't worry, we are here to help you. 
To access your Spotify playlist seamlessly, it is vital to have a good internet connection with a satisfactory or required speed. 
Generating this guide for you has mainly the purpose so that you can easily understand the error code and the fixes so that you can fix the problem from your screen.
What does Spotify Error Code Access Point 31 mean?
Facing Spotify Error Code Access Point 31 on your screen means: the application is unable to connect to the internet. This can happen if your device is not connected to the valid access point, the phone internet is working properly but, the Spotify application is unable to connect with the internet, and your access point is set to the WAP. Additionally, you may see this error code if accidentally your wi-fi is set to the "Disable" mode. 
How to Fix Error Code Access Point 31 on Spotify?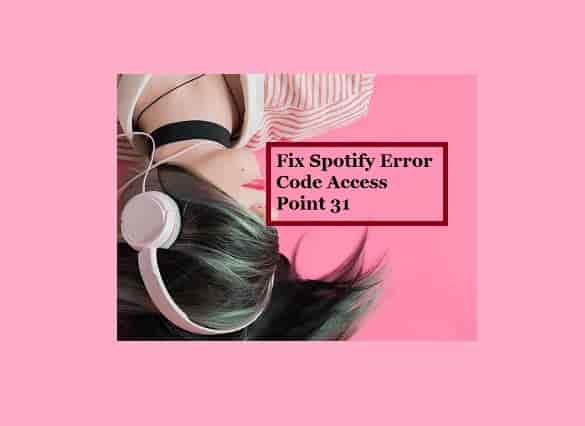 Reset your internet connection
When you perform a reset of your internet connection, it allows the application to establish a new and fresh connection that can resolve the issue.
Just switch off your router or internet device and remove all the power cables connected to it.
Waiting for a few seconds, at least 15 seconds, connect all the power cables again and switch ON your router.
If it is wi-fi that is causing the issue, try accessing Spotify using your mobile data and check if the issue is not happening here.
Do a speed test of your Wi-Fi by visiting this link. A slow bandwidth may also cause problems and result in an error code.
Change access point settings
In case if your phone is set to perform through a WAP connection that is not compatible to perform the Spotify application. So, changing these settings may fix the error code access point 31.
On your android phone, go to the settings.
Click on the Wireless and Networks and then click on More.
Now, select Mobile Networks and click on the Access Point Names.
Change from WAP to Internet. 
Check the status of the error code now.
For Apple Devices, here is a complete guide to change the Access Point Name (APN).
Clear The Application Cache
Application cache may prevent the application to connect with the available internet. So, clearing the cache files may help you out.
Access the Application Spotify, and click on the Setting icon.
Click on the Storage option.
Now, click on the Delete cache and confirm your choice by clicking again. 
Check For Update
An updated version of any application or software contains improved performance than its previous version. So, keep updating the application from time to time prevents many errors and provides better performance than its previous version. 
Access your app store and check if any "Update" is available for the Spotify application. If yes, then update it and check if the issue not appearing this time.
Uninstall and Reinstall The Spotify
This is the last option when no methods help to fix the problem Access Point 31 error. Just uninstall and reinstall the Application and check if that helps.
Conclusion
Error Code Access Point 31 on Spotify usually indicates an issue connecting with the internet. To fix this, reset your internet connection, change access point settings and clear the stored cache. Additionally, update the application to its latest version if you are using an older version and if nothing helps, uninstall and reinstall the app.
Also Read:

Fix Apple Music Error Code 12171