If you have recently upgraded your OS to Windows 11 and getting MSTeams.exe Error code 0xc0000020 then, read this guide. We have included two but effective methods to solve this problem. So, without rounding in other directions, let's start with how you can fix it.
How to Fix MSTeams.exe Error code 0xc0000020?
In windows 11, a built-in chat feature comes to chat with friends, other fellows, or colleagues. This feature can be used for any platform even if your friends and colleagues don't have installed the MS Teams. 
Some users may get Error code 0xc0000020 when they click on the chat icon to start a chat with their colleagues. Let's start fixing this error.
Uninstall and Reinstall the MS Teams Application
The first thing is to reinstall the application.
Click on the uninstall program from the appeared screen.
Now, search for Microsoft Teams and click on it and select Uninstall.
Next, download a fresh copy of the application and install it.
Try to click on the chat icon and see if the issue is not coming again.
If yes, then uninstall the application again and access Program Files/Windows Applications/Microsoft Teams, and delete the folder. Restart the computer and install the application again.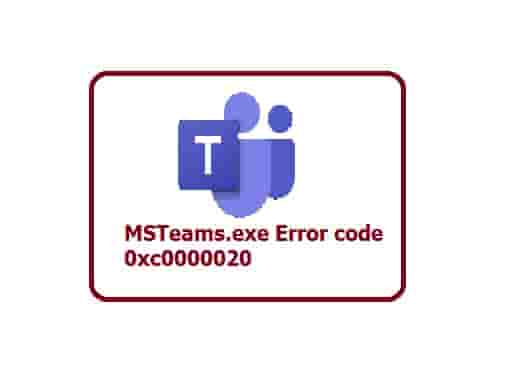 Reinstall Windows 11
If you rely on the application Microsoft Teams, then reinstalling windows 11 may help. Most likely this happens that some files may be got corrupted during the upgrading process. So doing this may help to fix the MSTeams.exe Error code 0xc0000020.
Move from Windows 11 to Windows 10 and make sure you have uninstalled the MS Teams before this process. After reinstalling windows 11, restart your PC and reinstall the MS Teams Application. Hope this time, the issue will be resolved.
Final Thoughts
Concerning fixing the MS Teams.exe Error code 0xc0000020, you should try to uninstall and reinstall the Application. If still, the issue is appeared then, roll back to Windows 10 and reinstall Windows 11 but, remember before this process MS Teams must be uninstalled. After, reinstalling Windows 11, reinstall the app and check if the issue has gone or not.
Disclaimer: All the above information is provided in good faith and the purpose is informational only. However, we make no representation or warranty of any kind, express or implied, regarding the accuracy, adequacy, validity, reliability, availability, or completeness of any information on the Site.