The importance of a camera realizes while you are going to host or attend an online meeting on MS Teams. If you are a Chromebook user and Microsoft Teams Camera not Working on your Chromebook, then what to do? Nothing to worry about, you can easily resolve this issue. Rather than wondering where there, you can get its fixes in this guide. 
We always try to gather and put the easy information to make your problem solve, but we also appreciate users who tell us some other fixes. So, if you will get any other solution to this issue, feel free, and comment with that.
Well, for now, Let's talk about how you will resolve this issue.
Microsoft Teams Camera not Working on Chromebook, What to do?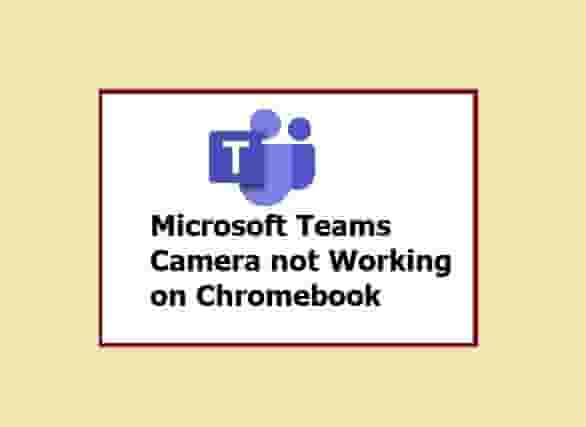 Microsoft Teams is developed and designed to work on all major operating systems. However, Chromebook users are facing issues with the camera app, which is quite elegant. Now, don't stick on this issue, move forward with this guide and hopefully, the issue will resolve.
Steps that should be done while you face this problem:
Test your Camera in MS Teams
Most probably camera will not work in your Chromebook device because of its access. So changing your MSTeams setting allows your camera to access the software. Here is how you will do it:
Open MSTeams Application.
Now, click on Device from the left-hand side of the screen.
Next, under the camera section, click on the down arrow and select your camera.
Relaunch the application and check if you're able to use your camera.
Give Permission to MSTeams to Use the Camera
If the application doesn't access the camera, users may face a black screen during the call. So, make sure you have allowed Microsoft Teams to access your camera.
Launch Microsoft Teams and access Settings.
Click on App permissions and click on the toggle button next to the Media(Camera, microphone, Speakers).
Use Web Client
If you are in hurry, use a web client of MSTeams and you can directly turn off/ON camera during the call. If the above steps do not help, you can move forward with this for a quick solution.
Conclusion
Usually, users may face the "Microsoft Teams Camera not Working on Chromebook" issue if the MSTeams is not allowed to access the Camera. Additionally, users may also get a black screen too. So, make sure your camera is allowed, and if by doing this, the issue is as it is, you can move forward with the Web Client.
As we told above, if you get any other solution, feel free to share with us. Thanks…
Related: You Would Love to Read

Microsoft Teams Not Working on Chromebook

Fix Oh Dear! Your Call Has Dropped in MS Teams

Together Mode Not Available in Microsoft Teams
Disclaimer: All the above information is provided in good faith and the purpose is informational only. However, we make no representation or warranty of any kind, express or implied, regarding the accuracy, adequacy, validity, reliability, availability, or completeness of any information on the Site.