Are you facing Xbox Error Code 0xd05e0126 while you are updating a game/app? Continue reading this guide to know the fixes.
Xbox is a gaming console brand developed and owned by Microsoft, and the Xbox has a huge number of users across the globe.
A few users have reported that they cannot update games on their Xbox console: the selected game is not updating and throwing an error 0xd05e0126.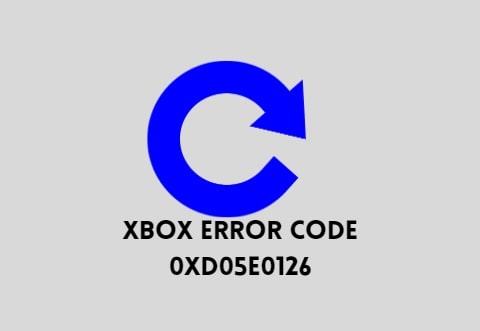 There are many popular games on the Xbox console including Assassin's Creed Valhalla, Conan Exiles, FIFA 22, Minecraft Dungeon, etc. In order to provide smooth gaming and add additional features for the players, these games launch updates from time to time.
If somehow, the update failed to install, players are deprived of these features.
Read– How to Update Games on Xbox?
According to some users, they cannot update games as the update process suddenly stops at a certain percentage, and are receiving error code 0xd05e0126.
In this guide, you'll learn how to fix this error.
Read– The game is stuck at a certain percentage on Xbox.
How to Fix Xbox Error Code 0xd05e0126
The error code can appear if the Xbox Live services are facing any temporary glitch or are affected by any means. Visit the Xbox status page to see if any Limited or major outage or maintenance is undergoing with the games or apps.
If so, wait until developers fix the issues and the services get back to the up-and-running status.
If all services are up and running, apply these solutions to fix error 0xd05e0126.
Cancel the Update and Retry
Press the "Xbox" button on your console.
Go to "My games & apps", and click on See all > Manage Queue Updates.
Go to "Queue" and click on the "Clear the queue" button to confirm your choice.
Retry to update the game.
Use Another Storage Device
Xbox console has limited storage from 500 GB or 1 TB. If this storage is full of games and apps, an update may get stuck in the middle. So the error 0xd05e0126 can also appear. Free up some space by transferring some games/apps to external storage and then try to update the affected game.
Set up a hard drive.
Press the "Xbox" button on your console.
Go to "My games & apps", then "See all", and then "Games."
Select the game that is not updating, and press the "Menu" button on your console.
Select "Manage game and add-ons."
Now, select the Game box and then choose the "Move or Copy" option.
Lastly, select the checkbox for the app/game, and then the external drive and click on "Move selected."
See if this helps to resolve the error or not.
Factory Reset Your Console
Press the Xbox button on your console.
Go to Profile & System> Settings > System > Console info.
Select "Reset console."
Next, select "Reset and keep my games & apps."
This will reset your console without deleting saved games/apps. Now, try to update the game/app and see whether the error code is still appearing or not.
Tell us, how this guide goes for you! Thanks!