Hello all, Today we are going to provide some very useful information related to the Roblox error code 1011. So, if you are having this error code on your screen and eagerly looking for information that can help you to fix it, read this article.
Roblox is used by millions of people to play their favorite games on it. This is a platform that allows users to create their games, and game accessories like skins, clothes, and many other things. Users earn Robux by selling these items in the game.
Read Also: What are Robux in Roblox and how to use them?
Error code 1011 is not one, but many errors come to the screen of players when they play Roblox. This is one of them. Let's know more about this error code and start with the causes first.
What is Roblox Error Code 1011? Possible Causes of Appearing.
Usually, Roblox Error Code 1011 appears due to a bad server connection. So, you can say that this error code is a result of server issues with Roblox. However, sometimes, your internet could also be responsible. A good and consistent connection is required to prevent this error code from your screen.
Read Also: How to see connected devices to Roblox account?
Read Also: How to Get Unbanned From Roblox?
Now, let's come to the topic and discuss the methods that can help you in fixing the error code 1011.
How to fix Roblox Error Code 1011?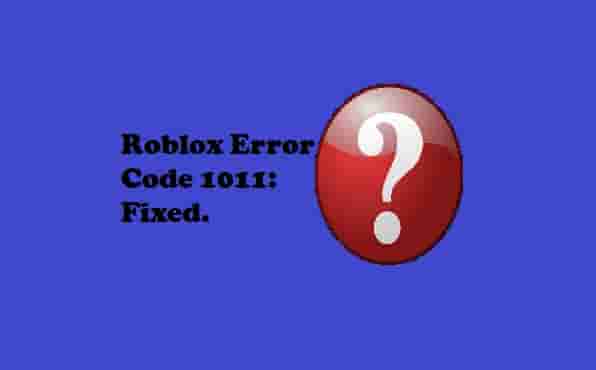 Roblox has many errors in it and users face them every day, we have a list of many errors that can help you to play your game without getting them on your screen, to read our guide on Roblox errors, visit this link.
Now, let's discuss the actions that you have to do concerning to resolve the Roblox error 1011.
Check Roblox Server Status
The main cause of getting Roblox error code 1011 could be an outage of the Roblox server or any maintenance work in it. So, you should ensure whether any maintenance work is undergoing with the Roblox, due to which the servers are busy temporarily. 
Read Also: Best method to check Roblox Server Status or any maintenance work.
Check Your Internet Connection
Always recommended to have a stable and consistent internet connection to prevent many errors on Roblox. So, if your internet connection is hindered, you may face error 1011. Check and ensure your device is connected to stable internet or not.
Read Also: How to Reset Roblox Without Resetting Your Settings?
Disable Antivirus Software
Antivirus software may also create a connectivity problem with the Roblox server. This could block some game files that can cause an error like 1011. So, disable your antivirus software while playing the Roblox game and see if the error code gets resolved or not.
Read: How to Disable Antivirus Software on Windows?
Flush DNS Cache (PC)
Refreshing DNS configuration may help to establish the connection with the Roblox server. So, if you are getting error 1011, try refreshing your DNS cache.
Type cmd in the search to open a command prompt and hit Enter button on your Keyboard.
Now, type ipconfig/flushdns in the command prompt and hit enter button.
Final Words
Fixing Roblox error 1011 is very easy. Tell us what helped you and how you resolved this error. Have you applied all the steps or just a single one had done work for you? 
If you have applied all the steps and yet, the error code is in appearance, try playing the game using the client rather than using a browser. This way, the error code will resolve.