There can be several reasons when a server sows a downtime. Generally, a down server may throw many errors and can bother users too. Roblox is a very popular game providing platform having millions of users, and if Roblox Server is down for any reason, these users may face many issues. Now, here is how you can check Roblox Server Status properly, and what are the best methods to do this.
When a Roblox server is down, users may face the following errors:
Error Code 610 on Roblox and many more.
What are the best methods to check Roblox Server Status?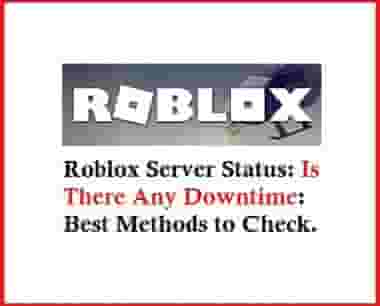 There are few best ways to check if the Roblox Server is down or undergoing any maintenance work. 
Users should check this when they are unable to launch a game on Roblox. When the server is down, generally, games are unable to launch. 
DownDetector: How to Confirm if there is any Downtime with Roblox Server?
DownDetector is a trusted third-party website to check the server status of many websites, software, and applications. Many users are confused that how they will confirm if there is a problem with the server or not?
For those users, we want to tell that if a live spike is in DownDetector means this is sure that the Roblox server is down. In this way, you can confirm the status of Roblox's server.
Roblox's Official Twitter Account
Stay updated with all the news and tweets on the Official Twitter account of Roblox. Here, they tweet issues and updates regularly. This is good to check the Twitter account of Roblox if you are getting any issue, and if the issue is globally, then they tweet about this with the solutions.
Roblox Status Page
Roblox Status Page is the best way to check whether the issue is with a particular device or not. 
Here, you can see if the Website, Mobile app, Games, Xbox app, Avatar, Data Store, Asset Delivery, and Studio are working properly or not.