Spotify provides millions of songs of your choice to enjoy listening to music. Somehow, if you need to Uninstall Spotify on your Mac, we will recommend learning the complete steps to do this. 
According to Spotify's official guide on app removal, before uninstalling the application from your Mac, delete the cache files then, remove the executable files to the trash. Even though, the application stores more supported files on your system, and these files should also be deleted completely to uninstall the application completely from your device. 
So, having the will to uninstall the application completely from your device is good but, following the correct steps to do it properly is necessary. Don't worry, this guide will make your work easy. Just follow the steps mentioned in this guide carefully, and complete the uninstallation process.
Manual Steps To Uninstall Spotify on Mac
As it says "Manual", this method requires Endurance, focus, and of course time too. Why? Because to complete uninstallation, you have to find all the support files and delete them. So, come to the steps:
Close the Application (Spotify) and all its background processes. 
To do this, go to the Menu and click on Spotify and select the "Quite Spotify" option from the list. Next, open Activity Monitor and check if any other Spotify processes are running in the background or not, if yes, then, close them.
Now, go to the Applications folder, and remove the application Spotify into the trash.
Next, you need to find all the service files that are remaining and can prevent the application to uninstall properly.
To open the hidden library folder, press the Command+G, and in the search bar type ~/Library and click on Go, or hit the Enter button.
In the library folder, find all the files related to Spotify and delete them one by one.
               Examples:

              ~Library/Application Support/Spotify
               ~Library/Saved Application State/
com.spotify.client.savedState
               ~Library/Caches/
com.spotify.installer
               ~Library/Caches/
com.spotify.client
               ~Library/Preferences/
com.spotify.client.plist
               ~Library/Preferences/
com.spotify.helper.plist
               ~Library/LaunchAgents/
com.spotify.webhelper.plist
Once you have deleted all these files, go to the trash and empty it to uninstall the application completely from your Mac.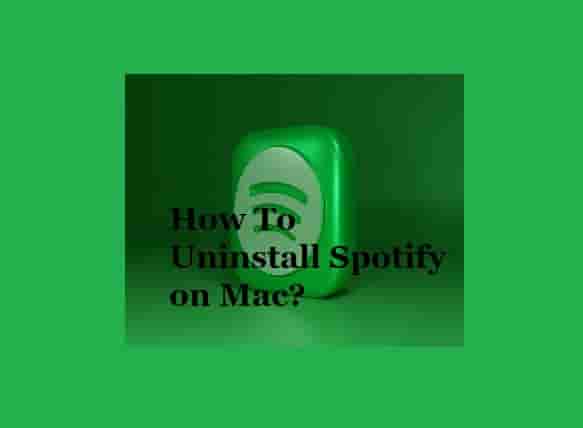 Use A third-Party Application
If you don't want to search files and want to do it faster then, you can use a third-party tool like CleanMyPC. However, many more tools are present in the market, and mostly pay a little bit amount of their services. It if of totally depends on you which tool you want to purchase. If you are willing to purchase a good tool for your Mac, please comment. We will earn a little bit of amount and you will not cost extra money for that.
After installation of the Application, launch it and select Uninstaller.
Find Spotify and then select the associated files too.
Hit the Uninstall button and all done. The Spotify is now completely uninstalled from your Mac device.
Final Thoughts
To uninstall Spotify completely on Mac, you have to find all the associated files with the applications and delete them one by one. You can also use a third-party tool to do this. 
Read More:

How to uninstall Spotify on Chromebook
How to uninstall Spotify on Windows 10 PC