If you have done or doing work from home then definitely you have heard the name Zoom. Maybe you too, are using this application, to take video conferencing or webinars. Zoom is a very popular application as it provides many features that the users like, but, nowadays Zoom Error Code 103033 is bothering the users.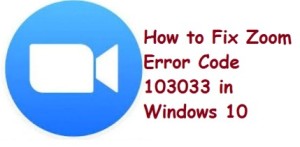 Users have been reporting this error code for the past few days. If you too getting this error code and a quite frustrated about its solution, then this article will solve your problem. But, firstly you should know what is this error code, and why this appears.
What is Zoom Error Code 103033, and why does this appear?
Zoom Error Code 103033 means "Your webinar host has been denied your Email". In other words, if the webinar host does not accept or deny your email then you will get this error code on your screen. Sometimes, this can also appear due to some bug in your PC.
Sometimes, if you are going to join a hosted webinar with an Email address that is not registered, then in this case too, you can face this error code in front of you. Another reason is, if you have any bug in your application, then you can also face this error.
How to fix Zoom Error Code 103033
There can be many reasons behind this error code like if you are requesting to join a webinar but to join the webinar, prior registration is required, then in this case too, you could get the Zoom Error Code 103033. But do not worry, first check this case, and if still having the issue, then go with the below-mentioned solutions. 
Contact the Host
Check by contacting the host of the webinar, if they are rejecting or denying your request to join the webinar. You can also check if any pre-registration is required to join the webinar or not.
Contact the Zoom Support
If you have contacted the meeting host and he/she doesn't find any solution to fix this error code, then you can contact Zoom Support for further assistance.
Zoom Support Website- https://support.zoom.us/hc/en-us
Uninstall and Reinstall The Zoom Application
Sometimes, uninstalling and re-installing any application fixes many of the issues. So like other apps, you can uninstall and re-install the Zoom application too.
You can uninstall it from the Control panel and then reinstall it again. I hope this will fix your problem.