Online games are increasing day by day, and PlayStations are also improving their feature as well to provide better experiences to all the users. In this way, Xbox recently added a new feature to it, that is party chat. The main purpose of adding this feature is to provide a chat facility to all Xbox users. But as this is a good feature, it has also some errors like users start getting Xbox Error Code 0x89231053 on their screens when they use this facility to chat with their colleagues in the game.
This error code is bothering the users as they are unable to chat with their friends when this error code arises. But we have gathered some very useful pieces of information regarding this error code, and we will discuss them all step by step in this guide. Let's began with first.
What is Xbox Error Code 0x89231053 and when it comes?
By doing some research on the error code we found that Xbox Error Code 0x89231053 appears when the console finds some issue in the Network Settings. You can see this error code with the message: Network Settings are Blocking the Party Chat. 
This error code has no official announcement or notification. But, in this guide, we have tried to provide you the best workarounds to fix this error code and use your Xbox smoothly. Be with this guide by the end.
Pro Tip:

If you are irritated by various PC errors and want to fix these automatically then install Restoro, a trusted PC repair tool. This tool not only fixes errors on your system but also increases the performance of your system.
How to fix Xbox Error Code 0x89231053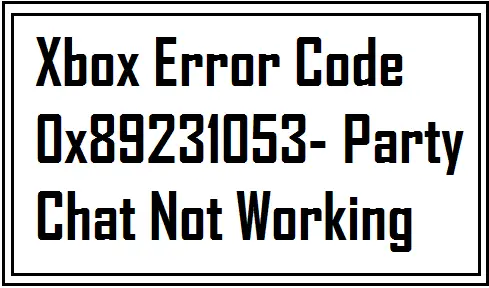 Here some tips are given that you can follow to fix this error code. You can follow these tips one by one until this error code is not gone.
Correct your Network Setting if it is wrong.
Check service status of Xbox Live.
Clear the Xbox Cache.
Reset Xbox Application Settings
Note: Make sure you have a good internet connection and speed, if any doubt, check your internet speed first, then proceed to the other workarounds.
Correct your Network Setting if it is wrong
Sometimes, if the NAT (Network Address Translation) is set to the close then you can see this error code on your screen. So, we recommend all of the victims who are getting this error code, firstly set the NAT to open. Here are steps are provided to do this, can follow them.
Open Guide by pressing the Xbox button.
Go to the Profile & System option.
Follow this path from here: Settings > General > Network Settings.
Under the Current Network Status, set NAT to open.
If you are not seeing the NAT type open then you can follow the given link to troubleshoot this.
Check service status of Xbox Live
Sometimes, if you see-  "Right now the party service has an outage" error message when you try to join the chat party, denotes that the issue is from the Xbox side. In this situation, you can check the status of the service by visiting this link- https://beta.support.xbox.com/xbox-live-status, and should wait for some time. 
Clear the Xbox Cache
Sometimes, when we update Xbox it stores some cache files which might be caused issues. So you should also clear the cache to fix Xbox Error Code 0x89231053. Removing the cache files is safe as it does not remove any game files, Gamertag, downloaded content, or updates. To clear the cache:
Go to the controller and press the guide button.
Now, go to Settings and select the System Settings option.
Next, select Storage but not select a device.
Press the Yes button, which will open the Device Options. 
Now, click on the Clear System Cache option, and if it prompts to confirm the storage device maintenance, click on the Yes button. That's it.
Reset Xbox Application Settings
You can also go with this workaround if no one helps to fix the issue. You can easily reset your Xbox app settings.
Just click on the Start and go to the Settings option.
From here, select System.
Now, click on the Apps and Features option.
Next, search for the Xbox app and click on the advanced option.
You will get a button with Reset text, click on it, and restart the device to save the changes.
That's all. Hope this will help you to fix Xbox Error Code 0x89231053. If you have any other error code or any other issue you can comment us in the comment box but make sure you use only the English language. Thanks…
Related Articles:

Fix Xbox Error Code 0x87e11838

How to fix Xbox Live sign-in error code 0x87DD002C in Windows 10

Fix Xbox Error Code 0x87af000d