Is Crunchyroll Not Working on Roku? Has your favorite anime failed to load on your Roku device? Read this guide and fix this issue now.
If you love watching anime, manga, and dorama, Crunchyroll could be one of the best options for you. Crunchyroll provides free and premium services. If you are on its free plan and want to go with its premium plan, you should read this comparison guide before this: 
Crunchyroll Free Vs Premium: A Detailed Comparison
Well, including a lot of features in it, Crunchyroll has some errors too. To provide a full solutions guide, we have created a list of Crunchyroll error codes and their solutions. Visit and solve if you are facing or have faced any.
Including errors, Crunchyroll, sometimes, may stop working on the different-different devices including Roku. Let's see what could be the causes of it and how you will solve this issue in minutes.
Crunchyroll Not Working on Roku
If Crunchyroll not working on Roku, then the main causes could be a poor internet connection, corrupted data, server-side issue, an outdated version of Crunchyroll, an issue with the Roku device, or its outed firmware. 
So, as of now, you are known what could be the possible cause behind this issue, so let's follow the steps by step process and solve this issue. 
How to Fix Crunchyroll Not Working on Roku?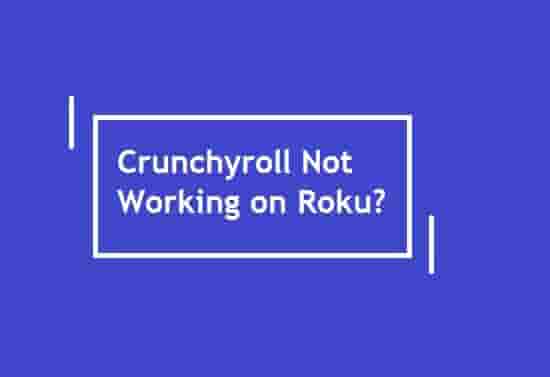 There are many causes behind the issue, so the solutions too. Let's try one by one and see which one helps to back the Crunchyroll.
Check Internet Connection
Internet connection must be proper and stable to stream any content on Roku without any issues. So as the first workaround, you should try to check your Internet speed. 
If this is below 20Mbps, you need to contact your service provider. Alternatively, you can restart your router to see a slight boost in the network signal.
Also, perform a power cycle that could help to get a sightly boost in internet speed. Disconnect another device if too many devices are connected to your Wi-Fi.
Switching on a wired connection may also help to get a boost in the internet signal.
Clear Cache and App Data
Like other digital devices, Roku also stores cache and data in the device's memory. When you visit any app or web, the cache and data are saved in the memory. These data, sometimes, get corrupted. This can happen in the case of Crunchyroll too. So, clearing the app cache and data from your Roku device may solve the issue.
To do this:
Press Home 5 times, and Press the Up button once.
Now, Press the Rewind button twice and Press the Fast Forward button twice.
Read Also: How to Install and activate FXNetworks on Roku?
Turn Off Roku And Relaunch Crunchyroll
This can fix the issue if it is temporary, here are the steps that you need to follow:
Close Crunchyroll on your Roku device.
Leave it for approx 20- to 30 seconds.
Now, turn on Roku and relaunch Crunchyroll.
Check Server Status
Check if any server outage is going with Crunchyroll or not. Because if there is a server issue, the application won't work. Head on to the Downdetector web page and see if there are many users reporting issues with Crunchyroll or if you are the only one.
If many users are facing the same issue, you can't do anything rather than waiting. Wait until the server issue has not been resolved and then after some time relaunch the application.
Read Also: How to Fix Roku Error Code 003?
Reinstall Crunchyroll
Reinstalling Crunchyroll may solve the problem. Here are the steps to this:
Press the Home button on the remote (Roku).
Use the right arrow button on the remote and choose Crunchyroll.
Highlight the app then press the asterisk ( * ) button on the remote.
Next, select Remove Channel.
Now, go back to the main menu and go to Streaming Channels.
Search for Crunchyroll and then, select Add Channel.
This should work and the Crunchyroll should also start working now. If not, then follow the next workaround.
Factory Reset Roku
Note: Doing a factory reset, restores your Roku to its default settings. All your downloaded apps will be deleted. Additionally, you will be logged out of your accounts from all pre-installed software too.
Follow these steps to factory reset your Roku:
Press the Home button on your Roku remote.
Go to the Settings and select System.
Next, select Advanced System Settings.
From here, select Factory Reset.
And lastly, select Factory Reset Everything.
Final Words
Tell us, which step worked for you. Also, tell us if the issue has been resolved for you or not. Don't forget to share this guide if this helped you because this may also help others. 
Although we have tried our best to include all the possible solutions in this guide, this could improve if you tell us another method. So, if you have any other method that worked for you, don't forget to share that in the comment section.
If you have any questions to support, you can ask them here.