This guide has many Crunchyroll error codes and their solutions. If you have faced any recently, get that error's solutions in this guide. We have tried to cover most of the appeared errors that a user has encountered ever. You just have to find yours and the respective solution to that.
Crunchyroll is a company which is dedicated to streaming anime, manga, and dorama. This company was founded in May 2006, and since then, it has acquired more than 121 million of its users. You can assume this company is the world's most extensive anime collection. So, if you are an anime lover, you can go with this name and find your anime to get entertained.
However, Crunchyroll is one of the biggest names among anime streaming platforms, this has many errors and issues that users face. Let's see what these errors are and what steps you should follow to fix them.
Why am I Seeing Crunchyroll Error Codes?
Behind facing an error code, there can be many reasons. The most responsible causes to face an error on any platform could be poor internet, corrupted cache, third-party software, outdated versions, VPN or Proxy, etc.
So if you are facing a Crunchyroll error code, let's find the reasons for that and possible fixes so that that error code can be resolved from your screen easily.
Also Read: Crunchyroll Free Vs Premium: Which is better?
Crunchyroll Error Codes: Causes and Solutions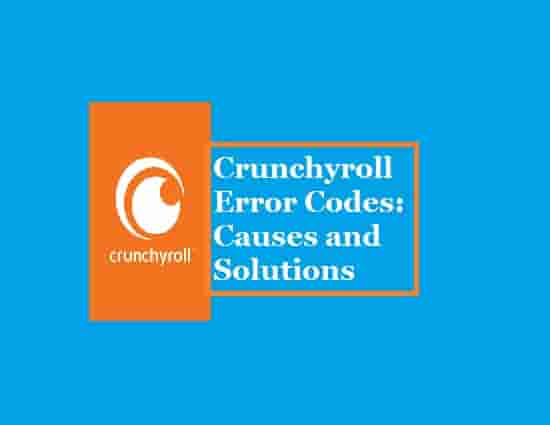 Here is a list of Crunchyroll error codes, just see which one is appearing on your screen, and follow the respective steps of a solution to fix that.
Crunchyroll Error Code 1015
Crunchyroll Error Code 1015 indicates that you have been temporarily blocked, and you can't access or log in to your account. This can happen if you are using a VPN or you hammered the login.
How to Fix Crunchyroll Error 1015?
To fix this error code, disable the VPN or proxy or wait for a couple of hours and retry to check if this error code is not appearing still. A rendition user said that this error code was temporary for him/her and after waiting for some time, this was gone. Additionally, you can change your IP address by using a VPN.
Crunchyroll Error 1020
Crunchyroll Error Code 1020 usually appears when Cloudflare denies the connectivity of your device to the Crunchyroll. This usually happens when your IP address has been blocked. If you are experiencing this error code on your Xbox then, the reason behind this may- you have turned off your console without closing the Crunchyroll application properly.
Steps To Fix Crunchyroll Error Code 1020
These steps should be applied to fix the error code 1020 on Crunchyroll:
Disable Adblocker if you are using any on your computer.
Clear your Browsing Data.
Turn Off Microsoft's Defender Firewall.
If nothing helps, contact support.
Crunchyroll error 1005, 502
Crunchyroll Error 1005, and 502 are also bad gateway errors like Crunchyroll error 1015. These errors represent that your IP address has been considered blocked by Crunchyroll. You can easily fix this error by using a VPN or if your VPN is causing the issue, disable it and see if these errors have been resolved or not.
Crunchyroll Error Code 504
Crunchyroll Error Code 504 indicates a problem with the server. This can usually appear when Crunchyroll's servers are planned for maintenance. You can wait till the maintenance work is not finished and retry to check the status.
Crunchyroll Error Shak 6007
Crunchyroll Error Shak 6007 usually appears when you try to access your account information such as username, password, email ID, or payment information. As a cause of this error code, you can consider a poor internet connection, a third-party application, cache and cookies data stored on your device, etc.
To fix this error code:
Restart your router or power cycle it.
Use a wired connection if possible.
Clear Cache and Cookies data.
If nothing helps, contact Support.
Crunchyroll Error Shak 3016
Mostly Firefox users experience this error code, but this can appear on other browsers and devices also. The exact error code looks like this- "Oops Something went wrong. Try again. Error: Shak 3016".
To fix this error code, follow these steps:
Allow autoplay at the top of the browser bar in Firefox.
Switch to another browser like if you are getting this error code on Firefox, switch to Google Chrome or vice versa.
Crunchyroll Error Code Shak 1001
This is another error code like Crunchyroll Error Shak 3016 that can be solved easily by applying the steps mentioned below. 
If nothing helps, contact support.
Crunchyroll Code MED-1
Crunchyroll Error Code MED-1 does not let you access the video. This error code usually appears due to a server outage, blocked IP, adblocker, corrupted cache & cookies data, or a VPN software or extension installed on your device.
To fix this error code:
Check the Server Status of Crunchyroll and if this is the case, wait for some time and try again.
Disable Adblocker if you have installed any on your device.
Clear cache & cookies data.
Disable VPN if you are using it and facing the issue or use a VPN to change your IP if your IP has been blocked for some reason.
Crunchyroll Error Code SHAK-7000
Crunchyroll error code SHAK-7000 most often occurs when users use browsers such as Firefox and Microsoft Edge. This error could be related to the cache, extensions or the Ad-blocker installed on your browser.
To fix this error, we would suggest disabling ad-blocker extensions and clearing the cache of your browser. Additionally, you can switch your browser and use Google Chrome as an alternative.
Crunchyroll Error Code RNV-2014
Crunchyroll Error Code RNV-2014 is very new to the users and there is not enough knowledge available related to this error. However, to fix this error code, you can check the server status of Crunchyroll and your internet connection. Additionally, check for your device's firmware or software update, Check Crunchyroll's update, clear app cache & data, power cycle your router, disable VPN or Proxy, enable autoplay, and uninstall and reinstall Crunchyroll.
Crunchyroll Error Code 114
Crunchyroll Error Code 114 is an indication of a server issue with Crunchyroll. This usually appears when servers are down or undergoing some maintenance work. Wait for a while and retry if this error is appearing on your screen.
Final Words
We have tried to tell you all Crunchyroll errors that are bothering users, but if we have skipped any that you are facing and in this list that error is not mentioned, tell us in the comment section. We will try to include that error and the possible solution to that.
Frequently Asked Questions
Why does Crunchyroll keep giving me an error code?
There could be many reasons, but, as the most common causes- Network issues, unstable or poor internet connection, browser extensions, and an outdated version could be admitted.
How Do I Fix a Crunchyroll Error code?
You can follow these steps:
Restart your device.
Reset your internet connection.
Decrease queue size.
Disable Adblocker or other browser extensions.
Uninstall and reinstall the Crunchyroll app.
As a last resort, if nothing helps, contact support.
Crunchyroll login not working? What to Do?
If you are facing issues with your login process:
Try reattempting.
Check your Email ID.
Check your Password and User ID.
Clear cache & cookies Data.
Check the internet connection.
Make sure you are using the email address that you have used to register your account on Crunchyroll.
Contact support.