Many Roku users are experiencing Error code 003 on their screens and searching for its fixes. This is the place where you will get easy solutions to fix the error code. We aim to provide complete knowledge about any error so that all things get clear to users. That's why we have tried to explain all about the Roku error code 003 in this tutorial guide.
What does error 003 mean on Roku TV?
Error Code 003 on Roku TV means that the device is unable to update the software right now. Sometimes, this error code also points to the problem of connecting several channels to the internet. Network security protocol, server-side issues, and an outdated version of your device may play the main role in this error code.
Mostly, the updation process fails due to server-side issues or some maintenance work. In addition, sometimes, it may also fail due to internet connectivity issues. 
How to Fix Roku Error Code 003?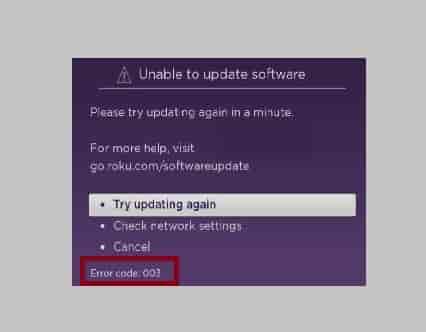 The main actions required in respect to resolving this error code are:
Check the Server Status
A down server or any other server-related issue may cause this error. So before going to change any settings, this is very fair to check the server status once. If the Roku Server is facing any problem or it is going through any maintenance then, you can't do anything rather than waiting.
Here is how you can check these things:
Check various forums sites to confirm that the issue is from the server-side or not. This is another way to check if the server is facing any issue, and if many users are getting the issue then, it is clear that the issue is from the server-side. 
Check Internet Connections
Poor internet connection and speed may prevent updation. So keep in mind that your internet connections are proper and have a good speed. Check all the connections and also speed.
You should also try to power cycle your internet device. Restart your router and wait for 30 seconds. Now, check if the issue has been gone or not because in many cases this helps.
Change Network Security Protocol
Several times this can happen that the Roku TV refuses to connect or update due to the network protocol type. So you should try to change the network security protocol and see if this helps to fix the issue or not.
Go to your Router Settings.
Now, click on Wireless Settings.
Next, find the Security mode option and expand all the options by clicking on the drop-down arrow. Select the option which is shown in the screenshot. Maybe the interface will be different on your side as it depends on which internet service provider do you use.
Use LAN cable
Some Roku devices come with bot WI-FI and LAN connection feature. If you are getting the error code 003 on your Roku TV when you use WI-FI then, change it and connect your device through the LAN. This may help as this will increase the speed of your internet.
Related Articles:

How to Clear Hulu Cache on Roku TV

How to Clear Prime Video Cache on Roku