Is Astro A50 Mic Not Working on your Xbox or PC? Astro headsets are quite good in performance, but sometimes, you may have issues with them. Here we are going to dive into an issue that is related to the mic. Many users may have this issue, and many are reporting evenly that their Astro A50 headset mic stops working randomly.
You are not alone in facing this problem, this is a random issue that many users may face. But, luckily, there are some simple actions, and that can solve this issue. Let's see these actions.
Simple Steps To Fix Astro A50 Mic Not Working
A quick view of the steps is listed below:
Update the Firmware.
Make Your Microphone Default.
Check Sound Settings.
Update the Audio Drivers.
Reset your Astro A50 headset.
Check for Hardware Issues.
Now, let's explore in detail what these steps are and how you can perform them to fix your problem.
Update the Firmware
Firmware may need an update when you face any issue in the function of your headset mic. This could be the main reason behind the "Astro A50 Mic Not Working" issue. So, first of all, check if any update is available for your headset or not. To do this, you have to visit Astro Command Centre.
Simply visit the Astro gaming website, and for Windows 10 users, visit Microsoft Store and search for Astro A50. You can easily get it here.
After that, get the latest version of the firmware and install it. To install, you just have to follow on-screen instructions that would be very simple.
Make sure that your Astro A50 headset is in Xbox mode if it is not working on your Xbox or PC mode if it is not working on your PC.
Note: Astro Command Center will automatically look for firmware updates once it detects that your device is connected. You just have to confirm the action by clicking on the Update option.
After installing the latest update, reconnect your headset to your device (Xbox or PC). Now, it should start functioning properly.
Read Also– Awesome Keyboard Shortcuts to make your computer worky simple.
Set Astro A50 Mic as Default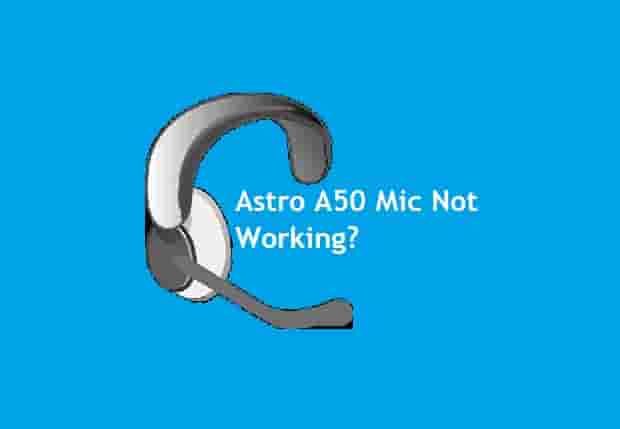 Go to your taskbar and from the right corner of the screen, right-click on the Speaker icon.
Select Sounds from the options.
Alternatively, open the Controle panel to do this.
Select- the "Recording tab".from the sound window. See if the Astro A50 is showing here or not. If not, then right-click on any space and select the 'Show Disabled Devices' option from the menu.
Next, right-click on Astro A50 and select enable from the menu. Now, right-click on it again, and now, select the 'Set as Default Device' option from the appeared menu.
Next, save your settings and click on Apply then OK.
Restart your PC and see if the issue has been fixed and if the headset mic has started working or not.
Check Sound Settings
Type- mmsys.cpl in the search bar and hit Enter on your keyboard.
Next, select the recording from the menu.
Right-click on the microphone and select enable. (Make sure It is turned ON)
Also, check that the microphone of your Astro A50 headset is ON and set as default. (Right-click on it and select set as default)
Click the OK button and restart your device.
Read Also – How to hide chat in WhatsApp on an Android phone?
Update Audio Drivers
Right-click on the Start menu and select Device Manager from the options.
Click on the Sound, Video, and gaming Controllers option and expand it.
Right-click on the audio driver and select the Update driver option from the menu.
Follow on-screen instructions and install the update.
Restart your system and try connecting your headset again.
Read Also- How to check who viewed your WhatsApp profile pic?
Reset Your Astro A50 Headset
Resetting your headset should fix such type of issue as sometimes, this can be temporary. So, just reset your headset and see if this helps to get back the performance of your headset's mic or not.
Read– How to Reset Astro A50 Headset in Seconds?
Check For Hardware Issue
If all the methods have failed to fix the issue, maybe, there is a hardware issue. So, check all the hardware once and if you find any issue, replace that part if possible.
Unplug your headset USB cable and plug it into the different ports of your system. You can also check its functionality by plugging it into a different device.
Final Words
Most of the time above methods helped users to solve the issue, but if they are failed for you, there is a possibility that the headset is having a hardware issue that needs replacement instantly. Moreover, you can purchase other brands.