No matter where you are from, Roblox Error Code 266 may trigger on your screen and ruin your play. So if you have gotten this in past or if getting it now, some potential fixes are provided in this guide, which will help to resolve this error code. 
The main concern of the users is why this is appearing and what it means. So, let us explain these things first then, we will proceed to its fixes.
Read also- How to get unbanned from Roblox?
Roblox Error Code 266: Description
Roblox Error Code 266 usually appears when a user doesn't access the game for a while. As a result, the client-server takes longer than usual to respond. In addition, a poor internet connection may also consider a factor in getting this error code.
So now, you know what is the meaning of this error, and what are the major causes of it. Now, come to its potential fixes.
Don't forget to fix:

Roblox Error Code 277

Fix Roblox Error Code 279

Roblox Error Code 103
What are the potential fixes for Roblox Error Code 266?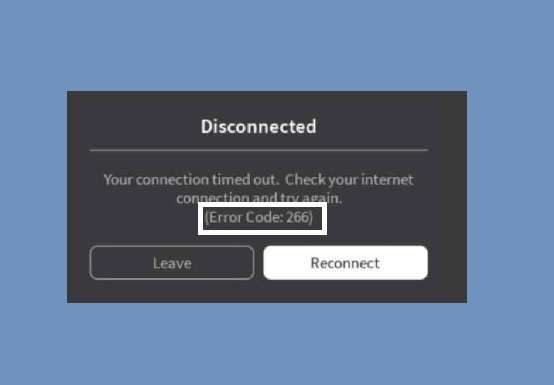 Below a list view of the steps is given that you have to perform in respect to fix this error, and these are here:
Troubleshoot internet connections.
Check if the Game is Going through any maintenance work.
Ensure you have installed an updated version.
Now, if you can perform these steps on your own then, you may leave this page, but if you want to know these actions in detail, be with this guide till the end.
Reloading The Screen: This action is effortless to perform and you can do it on your own, so do it, and check if the error has been gone or not.
Restart your Device
Error code 266 appears in the middle of the game, so reloading your screen and restarting your device may eliminate this error. This is a very common action to wipe out a temporary glitch.
Internet Connections: Troubleshoot
This can prove as the most helpful method to fix the error, as a poor internet connection prevents the game from connecting to the server. Don't worry, you don't have to do extraordinary work to do this. You just have to restart your router or modem, and if it doesn't help, power cycle it.
Detach all the cables from your internet device and power source as well.
Wait for 15 seconds, at least.
Now, plug all the detached cables, and turn ON your internet device.
Next, reconnect the device on which you were getting the error code.
Launch the Roblox and check whether the error code is disappeared or not.
Check If the server issue is ongoing
Sometimes, some server issues may be ongoing for the Roblox end. The best thing is to check it. However, there are several ways to do this but, you can follow a complete guide on this that is provided by us.
Here are the best methods to check Roblox Server Status.
In addition, you should also be aware of whether the game is undergoing maintenance works or not. A notification will pop up if it happens. You can also check various forums and social media platforms related to this.
Note: Also, check if you are using an updated version or not, if not then, uninstalling and reinstalling it automatically install its latest version.
Install Pending Updates
Make sure that you are playing an updated version of your game and check also you have installed all pending updates for Roblox.
Updates are launched to overcome the appearance f an error. So, always try to play updated games.
Final Words
Error code 266 on Roblox appears when you do not access the game for a while. To fix this error code do a simple reload of the screen, restart your device and the game, check server status, and install pending updates. Moreover, you can uninstall and reinstall the game.