Are you trying to update your Windows but, Windows Update Service Is Missing From Services.msc? Here is how you can fix this issue. Usually, when a Windows update service does not appear on the list means the service is not running on your system or machine. This results that you can't check for an update and can't install the latest Windows patches. 
Let's see what fixes you should try to resolve this issue.
Fix Windows Update Service Is Missing
There are four steps to resolve this problem, and these are here.
Run SFC and DISM to Repair Corrupted System Files
There are two commands which you have to run from the command prompt to repair the corrupted system files. SFC stands for System File Checker and the DISM stands for Deployment Image Servicing and Management. These two commands repair the system files and help to fix the issue.
Type cmd in the search bar and hit the enter button on your Keyboard to open Command Prompt.
First, run the DISM.exe /Online /Cleanup-image /Restorehealth command, and then, run
sfc /scannow command consecutively. 
When both commands run successfully, restart your computer and check if the update service is available now.
Pro-Tip

To fix various PC problems like this, install Restoro PC Repair Tool which comes with patent technology. This Tool Automatically detects bugs and malware issue and fix them with a single click.
Use Another user to import the Update Service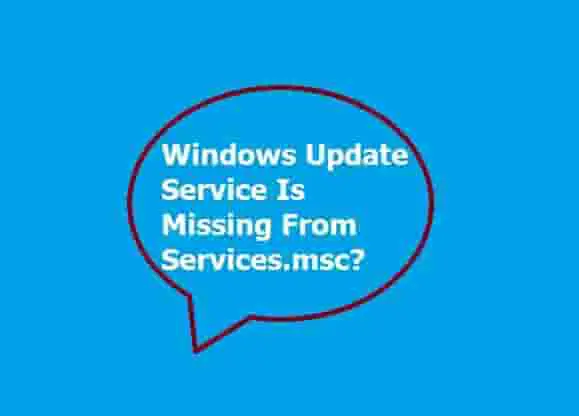 If one of your friends is also running Windows operating system then, it will be easy for you. Just ask him/her to export the Windows registry but make sure your friend is also running the same windows version. Import the entry and restart your computer, and check if the update service is back.
If your friend doesn't know how to export update service from the registry editor then, follow these steps:
Next, navigate to this path:
                  Computer\HKEY_LOCAL_MACHINE\SOFTWARE\
                  Policies\Microsoft\Windows\WindowsUpdate
Right-click on the Windows Update Folder and select the Export option from the list.
Ask your friend to share this exported registry entry.
Launch Windows Defender to Fix Malware issue
Malware can mess up your registry to fix these malware issues run Windows defender which is an inbuilt application. Missing an update service could be a result of a malware malfunction. 
Recommendation: Fixing various PC problems in a single click will not be a dream now. Install Restoro and fix various PC problems.
Reset Your PC
Before going to reset your PC, keep all your files first. Next, perform these steps:
Select System and scroll down.
Now, select the Recovery option and click on Reset this PC.
Make sure, you have selected the Keep my Files option that will allow you to keep your files and data safe.
Final Words
To fix Windows Update Service Is Missing From Services.msc, run DISM(Deployment Image Servicing and Management) and SFC (System File Checker) and import the update service from another computer. Additionally, scan your PC for malware issues, and in the last, if nothing helps, reset your PC but make sure you have selected the option Keep my Files.