Definition: Apple Music Error Code 22950 implies that the track can't play as the system has detected an authorization issue.  The exact error message appears- "This content is not authorized. Error Code 22950." So, in straight words, you can say that this error code is an authorization error.
Apple Music has a big name if we talk about the music application for iOS devices, but it has many errors too that users face when they try to use this application, not very frequently, but sometimes. Moreover, Apple Music can be accessed on other devices, like Android.
Some of the Apple music errors are here, and if you get any of these, you can follow our guide and fix it instantly:
Fix Apple Music Error 1852797029.
Why am I Facing Apple Music Error Code 22950?
Here are some possible causes:
Your internet connection could be unstable.
You have moved to a different internet network.
You have an outdated version of the application or your device's software.
Any of these could be the cause for getting the error code 22950, so let's go to its solution.
How to Fix Apple Music Error Code 22950?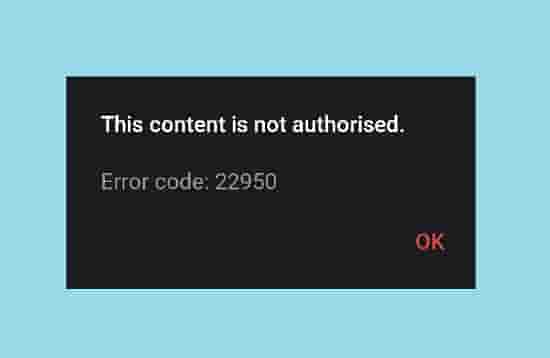 Check Internet Connection
The first thing that can help to fix this error is perfect and speedy internet. So check your internet, and verify that you have a good and stable internet or not. Perform a speed test to verify it.
Also, you should perform a power cycle of your router device, just unplug it from power plugs, wait for some time and replug and restart again. Wait until the connection is established again and see if the error code is not appearing this time.
Moreover, you can move to a different internet network and see the status of the error code.
Check for Update
Check if the Apple Music application is not running on its older version. Check and update iTunes and see if this helps to fix the error 22950 or not.
Also, confirm that your device has its latest software version(OS).
Uinstall and Reinstall
If you are getting error code 22950 on your android device especially, then uninstalling and reinstalling the Apple Music app is the best way to fix this error. However, this can also fix the issue on other devices too!
So, if nothing helps or fails to fix the error, just delete the application from your device and install its new copy.
Final Words
We hope you have got in this guide what you were looking for. To fix error 22950, just check your internet or move on to another network, check for updates, and in the last, uninstall and reinstall the application. 
You can also, visit the Apple community to get help from community specialists or visit Apple Support.