This guide will touch on all the details to fix the Disney Plus Error Code 1027 and also tell you the causes of appearing this annoying error.
Disney Plus has a good place among all the streaming platforms available these days like Netflix, Amazon Prime, Paramount Plus, etc.
Millions of users use this platform but, sometimes, they face errors, such as 1027, 1026, 142, 1028, and many more Disney Plus errors.
When Disney Plus Error Code 1027 May Appear, and on What Type of Devices?
Sometimes, errors may appear during streaming, and sometimes, users face any of these when they just try to open the application. 
This means some of these errors are streaming or playback error, while some are sign errors. Whichever the error, your streaming, and entertainment will get hindered.
Well, if we talk about the devices on which these errors may appear, this could be any device like TVs (Samsung TVs, Toshiba TVs, LG TVs, Vizio TVs, etc),  Mobile devices, Sky Q satellite television, etc.
Many users faced the error code 1027 on their Sky Q box, in other words- when they were trying to stream something on Disney Plus using their Sky Q box, they faced this error. So, you can also call this error Disney Plus Error Code 1027 on Sky Q.
Now, let's talk about the causes of this error.
Disney Plus Error Code 1027
Disney Plus Error Code 1027 implies an issue with your profile and possibly appears due to a temporary glitch, poor internet connection, or a server issue. Moreover, if Disney Plus blocks your IP, you may face this error, or if many devices are using the same subscription, the profile services may unavailable.
The extract error message says:
"We are having a problem. Please exit the app and try again.

Error Code 1027-Profile_Service_Init_Faliure"
This straightly implies that the profile services are unavailable or fail to load properly, as a result, you are seeing this error. However, mostly Sky Q users are reporting this error code.
How to Fix Disney Plus Error Code 1027?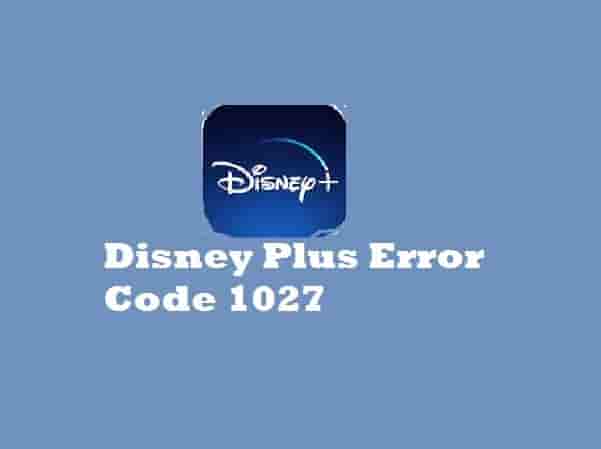 Streaming service providers such as HBO Max, Discovery Plus, Netflix, Disney Plus, Hulu, and others, always try to keep away from errors, but as they are digital platforms, errors may come commonly. Error code 1027 is one of many streaming errors and here are the steps that will help to fix this.
Restart Your Device
First of all, as the error message says, exit the app and go back to try again. If this does not help, restart your device.
Power off the device completely. Unplug it from the power sources connected to it (In the case of your Samsung TV, Sky Q TV, LG TV, or others) and wait for 5 minutes. 
Replug it and power back to restart it.
See if streaming is started normally or not.
Clear Cache
The second workaround is also so simple to do. Just clear the app cache and see if this improves the status of appearance or not.
The cache of the application may get corrupted and tend to an error code.
Sign out From Other Devices
Many devices may use the same Disney Plus subscription. So, if this is your case, means, that if you also are using many devices with the same subscription plan, the error may appear on your screen.
Sign out from other devices and use it only on which you want to.
Uinstall and Reinstall
If clearing cache, restarting your device, and signing out from other devices didn't help, uninstall and reinstall the application.
This will install the newest version of the application, and if the version was the cause, the issue may get fixed.
If this also fails to fix the error, contact Disney Plus support.
Frequently Asked Questions
How Do I Fix Disney Plus Error Code 1027 on Samsung TV?
To fix this error on your Samsung TV, restart your TV, clear the app cache, and reset the smart hub. Just head on to the Settings-> Support -> Self Diagnosis, and press Reset Smart Hub. Moreover, if nothing helps, uninstall and reinstall the application.
How to Fix Disney Plus Error Code 1027 on Sky TV or Sky Q?
Mostly, error code 1027 is bothering Sky TV users, and to fix this error on your Sky TV, just reset your Sky Q box. Press the home button on your Sky Q remote and go to the settings, now enter 001 and press select. A factory reset option will appear on your screen, now, press the standby button on your box, and the process will initiate.