Are you keep encountering Apple Music Error Code 42812? Have you taken a subscription and got stick and unable to use apple music on your device? Here is how you can fix this error code using this simple and easy guide.  
Getting a hurdle in listening to music is quite frustrating. Apple Music is a very loved application and allows users to not only listen to their favorite music but also, to create a library of music. Sometimes, you may face an "Unknown error occurred" associated with a code. Let's do an analysis of this error code and try to remove it from your screen as soon as possible.
What is Apple Music Error Code 42812, and when does it may appear?
The Operation could not be completed: An unknown error occurred (-42812) or Apple Music Error Code 42812 may appear during the songs playing on Apple music. Usually, this error code appears due to a communication hindrance between the apple server and the application. In addition, a wrong network setting on your iOS device, poor internet connection, and outdated software may also cause this error.
Suggestion: Please check if your subscription has not been expired.
Read Also:

Apple Music Error Code 42800

Apple Music Error Code 12171

Fix Apple Music Error 1852797029
How to Fix Apple Music Error Code 42812?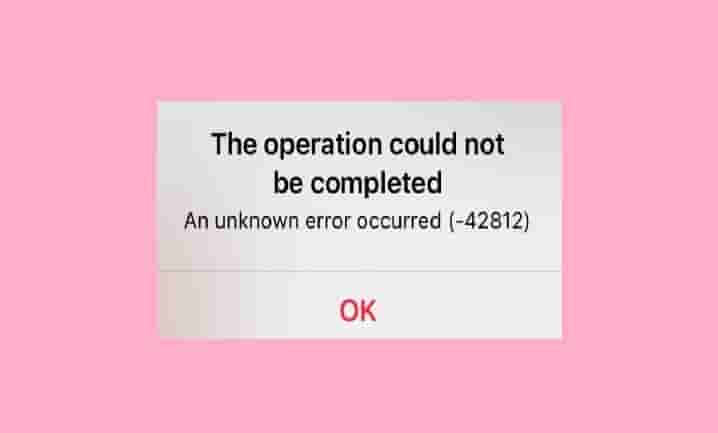 As quick steps, you can follow the below-mentioned actions to fix this error code:
Check if the subscription is still running.
Check internet connection.
Log out and re-login to your iCloud account.
Check for iOS software updates.
Reset your device's network settings.
Detailed Methods
Above we have mentioned only short and quick actions to fix the error code. Now, let's discuss all the methods in detail. Let's start with:
Check Server Status of Apple Music
You can use a third-party application DownDetector or you can visit apple's official link to check whether the server is up or down. To check the server status of Apple Music and other Apple applications visit this link.
https://www.apple.com/support/systemstatus/
Internet connections
If you are playing songs online then, make sure that your device is connected to the internet. Lack of good internet can be a major cause behind getting an error code. So, check the speed of your internet and notice that your data is on.
Why Log out and log in again to your iCloud account?
Logging out and in sometimes helps to understand better whether you are an authorized user o not. So simply, log out from your iCloud account and log in again using apple ID and password, and check if this helps to fix the error code.
Reset Network Settings and update iOS software
Go to Settings –> General and then, Reset option on your iOS device.
Now, select Reset Network Setting from all the given options and click on it.
When ask to Confirm, enter your device passcode and click on confirm.
Next, check if you can stream music on Apple Music without getting an error code.
As the last method, you should also check for your iOS device software's update. If it is available update it by following the below-mentioned steps:
Go to Settings on your iOS device (iPhone or other).
Access general and go to the software update option.
If available, you will see an option to update. Download and install and follow the on-screen instructions to complete the process.