Many times, you may need to do this. So we have decided to write a complete guide on How to Disable VPN or Proxy Server in Windows10. Now, you can get all steps to do this easily. So, without making a lengthy introduction, let's start with how you will do this.
Why or When?
First of all, this is our responsibility to tell you, why? why or when do you have to need to do this. Though, VPN or Proxy servers help and users usually use them, of course when needed, but, sometimes, this software or extensions may cause problems in some cases.
For this situation, you should know, if these are causing any issues then, how you will disable them.
How to Disable VPN or Proxy Server in Windows10?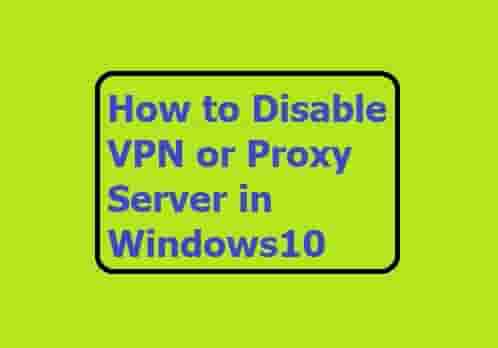 Well, this is going to be very easy to disable VPN or Proxy server. How? see it on your own.
Disabling Proxy Server
Now, type 'inetcpl.cpl' in the search box then, press OK on the screen or Hit the Enter button on your Keyboard.
Next, inside the internet properties, click on the Connections tab.
Now, under the Local Area Network LAN settings, click on the LAN settings.
Click on the Proxy server and uncheck the box next to the text 'Use a proxy server for your LAN' then click on OK.
Now, reboot your system to save the changes. That's it.
The VPN Client
Now, again open Run Dialog Box, and this time, type 'appwiz.cpl' in the search bar and hit Enter button.
A User Account Control (UAC) will open and will ask you to give the administrative privilege, click on Yes. If you want to know more about UAC then, follow this guide- What is UAC and How to Disable it.
A list of programs and features will appear, scroll down and find the VPN client that you want to disable or uninstall.
Now, once to get it, right-click on it and select Uninstall. Next, follow the instructions and then, after uninstalling completely, restart your system. That's it.
Pros and Cons
Disabling these without any reason may affect your work but, when they cause some issues in other applications, doing this is helpful. So, whenever you asked to disable the Proxy server or VPN client, you can follow this guide. 
Hoping, this guide is as simple as we have told above. Please don't forget to share with us, how and when this guide helped you. Thanks…