What do you understand by Apple Music error code 12171? How shall you resolve this unknown error? Which may occur when you are trying to play music on your device. Don't worry, we will help you. We have gathered some useful tips to fix this error code. Let's discuss these tips and get resolve the issue.
What did users say?
According to the user's queries, most often the Apple Music error code 12171 appears when users try to play music on their devices. Some users got this error code when they connect headphones to listen to the music and some have gotten without headphones. This error code can appear with a single song track or with the whole music library. Luckily, this error code can be fixed easily.
Applied Steps To Fix the Error Code 12171 on Apple Music
Here, we are going to mention the applied methods that helped the users to resolve the issue. Try these if you are on the same path.
Force close the app on your device and reopen it and check if the issue has been gone.
Users with iPhone X and later devices can go to the home screen and swipe up from the bottom of the screen. Now, select the Apple Music app and swipe up to find the app's preview to close the application. If you are a user having iPhone SE, iPhone 8 and earlier, or iPod touch then, double click on the Home button and the most recently used application will appear. Now, swipe left or right and select the Apple music application and swipe up on the app's preview, and close it.
Restarting your device may also help. Whatever the device you are using with Apple music, just restart it and see if the error code has been gone or not.
Update your device and the application as well.
Delete the particular song that is causing the issue and download it again and check if the issue is not appearing.
Uninstall the application and reinstall it. Doing this will install a fresh copy of the Apple Music app and hopefully will also help to fix the issue.
Go to the Settings> Profile> Media and purchases> Sign out from Apple ID. Now, wait for 30 seconds and login back in using the same Apple ID and password.
Disclaimer: Doing this can wipe out all your music library but, hopefully, the error will fix. You can redownload the music.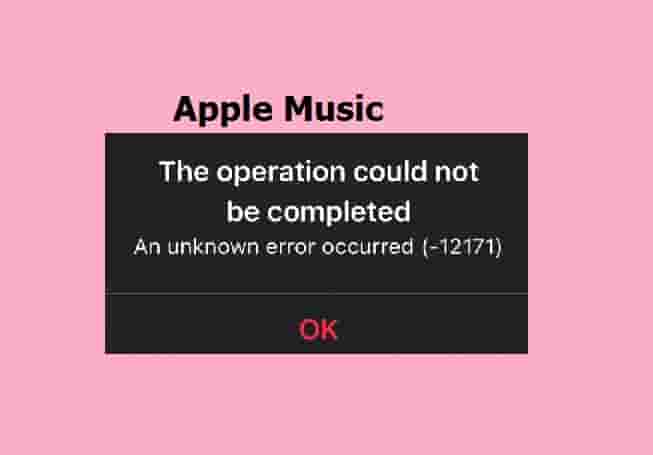 Conclusion:
The Apple Music Error Code 12171 can appear in association with the text- "The operation could not be completed: An unknown error occurred". Luckily, this error can be fixed by force closing the app, restarting your device, checking for an update, and uninstalling and reinstalling the application. Additionally, when nothing helps, signing out from your device using your Apple ID and signing back may help.
Read Also: Apple Music Error Code 42800