Are you facing Roblox error code 278? You should know that this error is a commonly occurring error on Roblox and many users tend to experience it, but luckily, there are some very simple ways to take care of the issue. Read this guide to get all the information about this error code.  
Daily a bunch of users access Roblox and enjoy their gaming. Not daily, but sometimes, some of these users experience Roblox errors. For those users, we have produced a list of Roblox errors and their solutions too. If your error is not in this list, you can find it form here. 
Now, let's talk about the error code 278, which is frustrating you.
What does Roblox error code 278 mean?
As the Roblox error code 278 states that- 'You were disconnected for being idle 20 minutes.' This usually means that the error code 278 appears when a user is away from the keyboard and not doing any activity for 20 minutes while in the game.
But, users may face this error code even if they are in the game and doing activities continuously. So, what should be admitted, and what should be the cause of this error code? Is this your concern right now? 
Causes Of Getting Error Code 278 on Roblox
Let's see the causes of this error code.
These should be the cause f getting the error code 278 on your screen:
Maintenance work.
Temporary Shutdown.
Connectivity Issues.
The connectivity issue should be from your end, while the maintenance work and temporary shutdown may be performed from the Roblox ends.
Roblox or the game developers may temporarily do some maintenance work for the game that you are in. So they may shut down the game temporarily, and as a result, you may face the error code 278.
So, what should you do to fix this error code, let's see below?
How to Fix Roblox error code 278?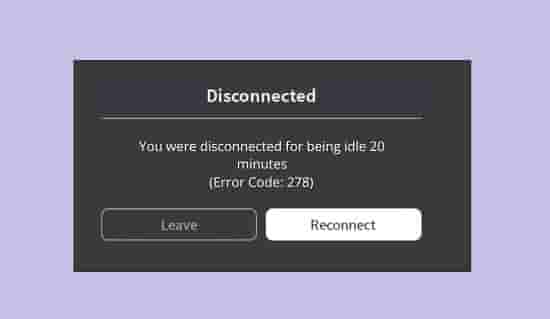 As we have stated above that this error code tells us that you are AFK (Away From Keyboard) for 20 minutes- while in the game, you may, first of all, restart the game and check if the error code is appearing still has been gone now. 
Check for any updates also.
If the error code doesn't disappear even if you have restarted your device and the game, the issue should be from the Roblox or the game developer's end.
For any maintenance work, the game developer may stop or shut down the game for a temporary period.
Also, a server downtime may cause the error code. You can check the server status of Roblox and see if many users facing the same error at the same time as you are facing. 
Here are- Best methods to check Roblox Server Status.
If there is downtime or any maintenance work is in progress, wait until the developer finishes it. After that, you can easily play your desired game.
If there is n maintenance work, the issue is due to your internet connection. Restart your router or internet device so that the connection can take a fresh start. You can perform a power cycle of your router too.
Tell us, what is the status of the error code after applying all the above solutions.
Conclusion
Roblox error code 278 'You were disconnected for being idle 20 minutes', usually states that you were AFK (Away from Keyboard) for more than 20 minutes while in the game. To fix this error restart the game, check your internet connectivity, and see if any maintenance work is in progress- due to which, the developers have shut down the game for a temporary period.
Frequently Asked Questions
How to remove error code 278 in Roblox?
To remove this error, the client needs updating. Check your PC's date and time. Maybe, the client attempted to join a server while the server was closing. You may also face this error if Roblox was uninstalled while the user was in-game. So, do a restart to your game and Roblox, check your internet connection, and check for any maintenance work.
Is Roblox broken right now?
To check, visit the Roblox Twitter page and see the latest update. Roblox will surely tweet if any downtime is undergoing. You can also check out our guide on- the best methods to check Roblox server status.
Who made Roblox?
Two persons, David Baszucki and Erik Cassel founded Roblox in 2004.