There are many users who are facing the error code plr-3001 while they are trying to access the IMDb content on their Fire Stick. You can solve this error code easily, you just have to follow the steps mentioned in this article.
If you are not clear on what this error code is and how to fix it, just read this guide. 
How to fix IMDb Error Code plr-3001 on Amazon Fire Stick?
Here are a few steps that users have tried and resolved the error code. You too, try and enjoy error-free streaming.
Clear Amazon prime Cache and Data
This is the first act that has worked for many users. Just clear the Amazon prime Cache and Data and relaunch the IMDb content.
Power-cycle your Fire TV Stick 4K
If the first step fails, just power cycle your Fire TV Stick 4k and see what is the outcome. The error code should be solved this time.
Unplug the device and wait about 5 minutes before plugging your device back in. 
This will resolve the error and you can access IMDb content.
Restart your internet modem/router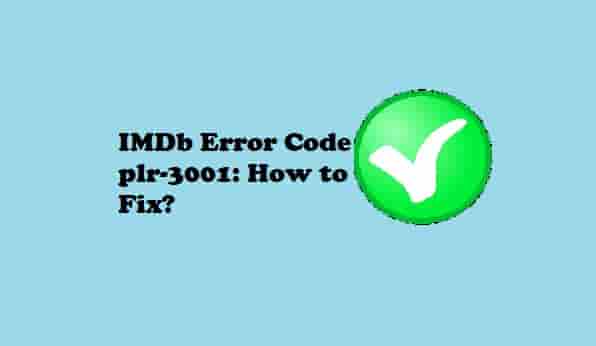 It may just need a refresher and a reboot of your internet router/modem to resolve this error code. 
Press the power/black button back side of your router and it will restart. 
Try to access the content that you want.
Check for software update
Your Fire TV may need an update. So check and update it to the latest version.
Go to Settings > then access the "My Fire TV" option> About > Check/Install Update.
Read Also- How to Pair Firestick Remote with TV?
Final Words 
IMDb is an online database of information related to newly released films, television series, home videos, video games, and streaming content online – including members involved in the production and personal biographies, plot summaries, ratings, trivia, and fan and critical reviews. 
It helps users understand about movies, shows, games, and much more.
Some users have stated that they were facing an error code while they were trying to access its content on Fire Stick tv 4k.
We hope that the error code is resolved and you are able to access its content.