Is the 9anime error code 233011 bothering you? Does it not allow you to play any video? Let's see why? 
9anime Error Code 233011 usually pops up due to connectivity issues to its services. This could be due to an unstable internet connection, a VPN, antivirus software, incompatible extensions, and corrupted cache & cookies data. Sometimes, server issues and an outdated version of the app could also be responsible. The error code says- 
"This video file cannot be played, error code 233011."
Let's figure out this error and know the solution steps.
How To Fix 9anime Error Code 233011?
Check internet connection 
Most commonly, the appearance of the error 233011 does take place due to an unstable internet connection. So, check your internet and solve issues with it, and the error code will disappear.
Troubleshooting steps involve;
Power cycling your internet device.
If facing issues with it; contact your ISP.
Switch to Another Internet
If possible, switch to another internet connection to see if your previous internet was the issue.
You can try your home internet or could ask your neighbor to provide his/her.
Disable VPN
The error 233011 could be country-specific, as for some countries, the services could not be available. 
So, if you are using a VPN, just disable it and use a strong VPN instead. 
Here is how to disable VPN.
Disable Antivirus Software
Rarely but possibly, antivirus software may block some files which could lead to the error code 233011. To see if this is the issue, just disable your antivirus software and relaunch the 9anime content.
Read– How to disable Antivirus Software?
Check Server Status
The error code 233011 could be a result of a temporary bug or glitch in the 9anime. This could also appear due to some server problem with the 9anime.
If it is the case, the 9anime team already knows about this and is working to resolve it. Wait until the bug is resolved by the 9anime team or the 9anime server is up. 
Change Server in 9anime
This step could help if the error is appearing for a specific video or episode. 9anime has 4 servers that are Vidstreaming, Vidcloud, SteamSB, and Streamtape. Switch to any of these, and see if the content is playing well or not.
Disable Incompatible Extensions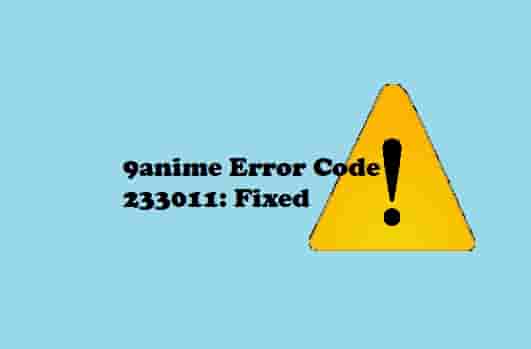 This is quite different to figure out which extension is causing the problem. So, disable them one by one and verify. 
To disable the extension from your chrome browser, 
Click on the three vertical dots at the top right corner of the browser screen.
Go to the more tools and then click on the extensions.
Toggle off one by one extension and launch 9anime to see which one extension is the culprit.
Clear The Browser Cache & Cookies Data 
Sometimes the browser cache & cookies data may get corrupted and result in the error code. So, delete these files and data and relaunch the 9anime content to see if the error has been shortened or not.
To clear these data, 
Head on to the three vertical dots and go to more tools.
Click on clear browsing data.
Select the time range and check the boxes next to the texts- "Cookies and other site data" and "Cached images and files."
Now, tap on "Clear data" and wait for a few seconds to complete the process.
Relaunch the 9anime content.
Use another browser
To see if your browser has issues, change it and move on to another browser like Firefox or Microsoft Edge.
You can also use a private or incognito window.
Check For Updates
Make sure your device and the 9anime app are on their latest updates. If they are on an older version, you may face the error code.
So, check and install any pending updates for your device and the 9anime app as well.
Disable Battery Saver Mode
If you have enabled battery-saver mode; means there are restrictions on many app functions. This may result in an error code. 
So, disable the battery saver mode and relaunch the 9anime to see if it is working properly or not.
Final Words
The steps to fix the error code 233011 are very simple, first of all, you should try to figure out your internet connection and then disable VPN, disable Adblocker, disable Antivirus software and then change servers in 9anime. 
Additionally, there are some other methods also that could resolve this error code. All are mentioned above right in this article. 
If all the steps fail, try to contact support.