For the online streaming lover, Amazon Freevee is a premium free streaming service. You can watch thousands of hit movies and shows for free. There are many errors that users are facing with its services. Error Code plr-5001 is one of those errors.
Let's see what would help if you are facing this error.
How to fix Freevee Error Code plr-5001?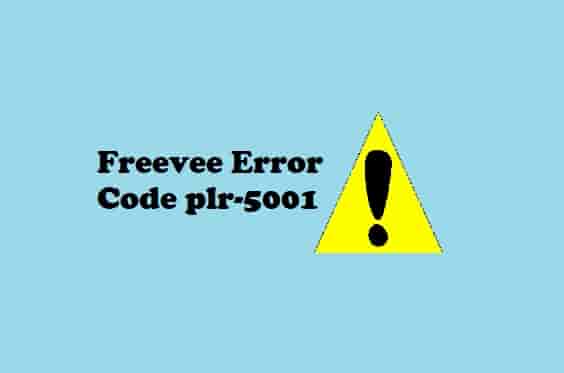 Clear Freevee Cache and Data
This is the first act that has worked for many users. Just clear the Freevee App Cache and Data and relaunch it. To do this,
On your Fire TV Stick, go to Settings and select Applications.
Now, from the Manage Installed Applications option, select the Freevee app.
Lastly, select the Clear Cache option, and then Clear Data.
Power-cycle Your Fire TV Stick 4K
This will take about 5 minutes but the problem will be solved.
If you have done the first step and it has failed, just power cycle your Fire TV Stick 4k and see what is the result. The error code plr-5001 should be solved this time.
To do this,
Just unplug the device from all the cables and wires and wait about 5 minutes before plugging your device back in. 
This will resolve the error and you can access the Freevee content.
Restart Your Internet Modem/Router 
This is simple but can be a big help especially when you don't restart your router for a long time.
Sometimes, just a fresh start to the connection is enough to resolve the error code plr-5001.
When you just restart the router, a new connection is established between your router/modem and the device. Thus, this can help to resolve this error code. 
To do this,
Press the power/black button back side of your router and it will restart. 
Try to access the content that you want after doing this task.
Check for Software Update 
Don't forget that your Fire TV may need an update. So check and update it to the latest version and see if this solves error plr-5001. To do this,
Go to Settings > access My Fire TV option > About > Check/Install Update.
Final Words
The above 4 ways are sufficient to resolve the error code plr-5001. 
The second method was helpful for many users, so please tell us which one helped you.
If you don't find any help with these, you can contact Amazon support or follow the official Amazon forum.
Read These Related Articles:
How to Pair Firestick Remote with TV?

How to Clear Silk Browser History on Firestick and Kindle Fire?