Amazon Fire TV or Fire Stick is a device that offers users access to many movies, shows, and videos. Other than this, the platform comes with many errors that users face when they try to access its contents. This article is going to provide information on Amazon Fire TV Error Code P-49999, which many users are facing. 
A user asked on the Amazon forum, the profile/homescreen was not loading for him/her. When the user clicked on the profile, the error code p-49999 appeared.
Luckily, there are some ways that will help you fix this error code. So, let's see those ways.
How to Fix Amazon Fire TV Error Code P-49999?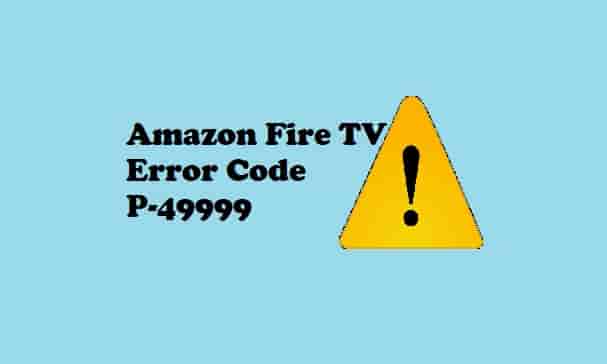 Restart Fire TV or Fire Stick 
Sometimes, a quick reboot is enough to fix the error code. Just doing a simple restart of your Amazon Fire Stick TV may work and the error code could be fixed.
Look for the Select and Play buttons and press and hold these two buttons for at least 10 seconds.
Now, wait until your Amazon Fire Stick is restarted.
Power Cycle Your Device 
This will provide a new atmosphere to connect the device again. Sometimes, this will fix the error code, so just try and see the result. To do this,
Unplug your Amazon Fire TV Stick and smart TV from the power plug.
Also, unplug your router or modem too.
Now, wait for at least 5 minutes leaving all the devices unplugged.
Now, plug the devices into the power outlet and TV.
As the final step, turn on your smart TV and try to relaunch the Amazon Fire Stick.
Switch HDMI Port
Switch to Another HDMI port to ensure that there is no issue with the port in which you are right now.
Check for hardware issues too.
Hard Reset Your Amazon Fire Stick
This task worked for users and the error code has been shortened for them. You can also check out this act and see the result for you. To do this, 
Take your Amazon Fire Stick remote and look for the Back and Right buttons on it.
Now, press and hold these two buttons for at least 10 seconds. Don't leave these buttons until you see the option for Factory Reset on your TV screen.
The next step is to select Continue.
Check For Updates
Check if any update has been launched for the Fire Stick or your TV. If you found any, update your device to that as the error could be a result of an outdated version of your Fire Stick firmware or the TV firmware.
Conclusion
Amazon Fire Stick error code P-49999 is a profile error that could be quickly resolved by restarting your Fire TV or Fire Stick and hard resetting your Amazon Fire Stick. If these steps don't help, check your internet connection or power cycle your internet device, power cycle your Amazon Fire TV and TV, and check for the latest updates.
Read Also-

Amazon Fire Stick Error Code 8056.

Amazon Fire Stick Error Code 7136