These days most people are doing work from home due to pandemics. Many people, as a business owner or as an Individual, using applications for video conferencing or taking an online meeting to their employees, or bosses, or seniors. Many, are confused to choose a good app or software or you can say a better application or software for attending the meetings online or taking online webinars. For those, here are the Free Video Conferencing Apps (Softwares) in 2021 and we will try to explain all the best features of these applications or software.
Why are Video Conferencing Apps getting popular these days?
So many people are doing work from home these days due to pandemics, and they need to consult or monitor the work progress. In this situation, they don't come to the office or any public place to discuss, so they prefer to use an online video conferencing app to discuss all their doubts, queries and work progresses. This is the main reason behind the popularity of all video conferencing applications these days.
If you are searching for a list of Free Video Conferencing Apps this year(2021), then here are some of the most popular applications are listed that are free to use.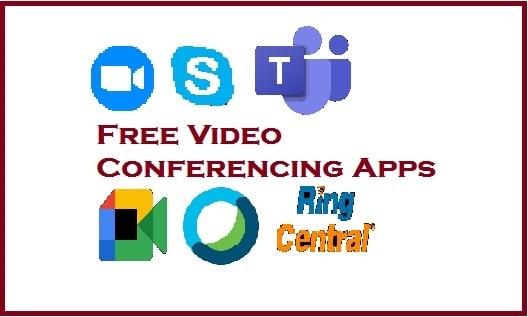 Free Video Conferencing Apps or Software in 2021(List)
First of all, we will see the list of some Free Video Conferencing Apps or Software in 2021, and then we will talk about the all apps in detail.
Zoom Meeting.
Google Meet.
Skype.
Cisco Webex.
MS Teams.
RingCentral Meetings
Zoom Meeting
If we talk about the presence of free video conferencing applications then, there are many applications, but Zoom is one of the best free apps among all. Although, this application charges some extra amount if you take its premium features. But, a free version of it is sufficient to use. 
Features of This App:
This application can supports up to 1000 participants on a freemium account. 
You can share your screen with others.
Get Zoom from Here
If you are a Linux user, then you should move to this article- Best Video Conferencing Apps For Linux
Google Meet
Google meet is a premium video conferencing software developed by google which was prior known as Google Hangout Meet. 
Features of Google Meet:
This application is free to use.
Allows 250 participants, and Free users can add up to 100 participants.
Also, provide a real-time caption feature.
A screen sharing option is also available in this app.
Users can record meetings as it supports recordings.
Get Google Meet Here
Skype
This application is one of the best popular video conferencing applications. Its name is listed in the list of the most used applications from all over the world too. You can say that this is a Free Video Conferencing Apps that is being used broadly in 2021.
Features of Skype:
This app is free to use but you can switch to its premium plan to use more features.
Allows up to 50 participants for an unlimited time duration.
Users can make audio and video calls using this application.
One of the best features of this app is a private conversation. This app allows users to create a private room to chat with each other or in a group, which means you can chat with your colleague with privacy, and after completing the chat you can delete these conversations.
Users get HD audio and video calling features in this app. 
Get Skype Here
Cisco Webex
Cisco Webex is number 4 on our list of Free Video Conferencing Apps. This app comes with 4 plans Free, Starter, Business, and Enterprise plan. We will not talk about other plans as this is a list of free apps. So let's discuss the:
Feature of Cisco Webex Application:
Its free plan is available for a single user. 
It allows 100 participants with a free plan, which makes it useful to use with its free plan.
The meeting length in the free plan is for up to 50 minutes.
Users can share their screens in Cisco Webex. This also supports mobile screen sharing.
Allows users to save their recordings on their computers or PC.
Get Cisco Webex
MS Teams (Microsoft Teams)
Who doesn't know the name Microsoft? This is one of the biggest companies in the world of technology. Most of the computers or laptops come with the operating system- Windows. But here we will discuss one of its products that is MS Teams.
Every user who has a Microsoft 365 account can access MS Teams, if you don't have a Microsoft 365 account, then you too can access this application for free. 
Features of MS Teams:
Free for everyone either you have an office 365 account or not.
Screen Share feature is available.
Can make notes during the chat or video call.
Integration with Office 365.
Get MS Teams Here
RingCentral Meetings
The RingCentral Meetings is also a free-to-use app. Manu users using this application without any hindrance. You can also choose this application if you want. Let's talk about the features of this application.
Allows up to 100 participants.
A multi-point video conferencing feature is available in this application.
Users can take conferences in HD quality.
This application is compatible with Mac OS, Windows, iOS, and Android.
Screen sharing is available in this.
Get RingCentral Meetings from Here