Taking a video conference may solve many problems as this provides you to meet people online face to face. There is a lot of applications available for windows, android, iPhone, and Mac but Linux users always wondering to know which app is best for them. Here, we will tell you the Best Video Conferencing Apps For Linux in 2021 as these days, the use of video conferencing applications has been increased. 
You can select any of them as all are popular applications, and many users are using them to take video conferences with their office team members or with their contacts as well. 
Best Video Conferencing Apps For Linux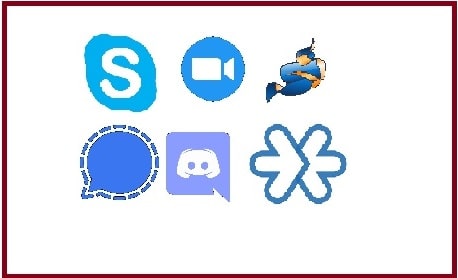 There are also a lot of applications present for Linux users so you don't need to worry. Here some of the most popular applications are listed with the wide users and the main features. You can select any of these according to your choice.
Zoom 
This application has a very large amount of users from all over the world. Zoom has gained a tremendous increment in its users this year. Due to pandemic, its users have increased in very huge amount. 
It has more than 500M downloads on android devices. 
This application first released on September 10, 2012, and then the stable release of this application was in April 2021 (5.6.5 / April 30, 2021). This application supports Windows, macOS, Linux, Android, iOS, and Chrome OS as well. So if you are a Linux user then, you can use this software without any hesitation.
Zoom Features: 
Now, come to its features as this is very important to know for all who want to install and use this application.
Pricing: First, If we talk about its pricing then, it is freemium software, which means you can use its free or paid version as well. It is up to you as some features will be extra if you take a premium account.
Screen Recording: You can record your screen in this application.
Screen sharing: This application allows users to share their screens with others. So yes, if you want to share your screen then this is possible in this application.
Video Webinars: This application supports video webinars.
Meetings: You can host meetings on this application.
Participants: Its freemium account supports a maximum of 1000 participants.
Get Zoom From Here
Skype
This application is being used by millions of people across the world. This comes for Windows, Linux, all mobile devices including iOS. This application also comes for Xbox One and Xbox Series X/S consoles, and smartwatches. 
You can guess the popularity of this application among the users. Now come to its feature because without knowing the features of any application, we hesitate to use it. 
Features of Skype
Here are the features of this application, on the behalf of these, we have included this in our list of Best Video Conferencing Apps For Linux.
Pricing: This application is free but it also comes with its business plans. 
Audio And Video Calling: Skype allows users to do audio and video calling with HD features that make the quality of video very impressive. 
Screen Sharing: Users can share their screens if they use this application.
Private Conversation: This feature makes this application good to use as if you want to do some private chats with your colleague or your friend, you can create a private room. After finishing your chats, you can delete this room forever.
Call Recording: YOu can record your calls as well as a screen in this application.
Get Skype From Here
Jitsi
Like the above two applications, Jitsi is also very popular among the people. If you are a Linux user and looking for Best Video Conferencing Apps For Linux, then this application you can use. In 2020 it had more than 20 million active users, which is not a small amount, and it elaborates the popularity of this application too. 
Features of Jitsi
Like others, this app also has many features. Here are some of them:
This application is free to use.
It comes with many languages or you can say that this application supports many languages.
As this application is built on java and javascript, it provides more security to its users.
It is also compatible with the WebRTC which is an open standard for Web communication.
It does not have any hidden feature, and this makes the application user-friendly and easy to use.
This application supports presentation and desktop sharing.
Get Jitsi From Here
Discord ( Best Video Conferencing Apps For Linux )
It provides a free and open-source nature by which the users consider it as a flexible video conferencing app. Here is a list of its features:
It is a free and open-source application.
A screen sharing and screen recording options are present in this app.
Also offers conference calls.
HD audio and video recordings.
Available in multiple languages.
This is one of the Best Video Conferencing Apps For Linux.
Get this app from Here
Signal, Zoho meetings, and many other applications are also present for Video Conferencing. Here is a quick view on the names of these applications: