Roblox Error Code 110 indicates an issue connecting the game with the Roblox server, or sometimes, it might also indicate an issue with your internet connection. Mostly, this error code appears on the screen of Xbox and Windows users. In addition, it may also be seen when some privacy restrictions are present.
However, users who are encountering this error code can fix this with easy methods. 
How to Fix Roblox Error Code 110?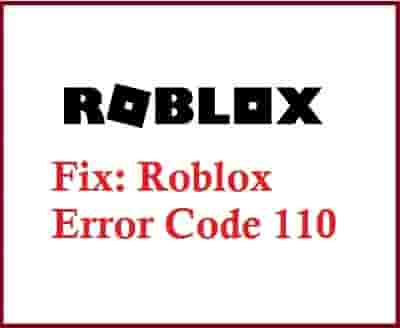 Check: If there is any Server Issue?
Concerning fixing this error code, you should check if the issue is from your side or the server-side. If the issue is from the developer's end, then you can't do anything. You have to wait until the developers fix it.
Now, the doubt will be in your mind, that how you will confirm that, is any server issue is happening or not. So, to clear your this doubt here is a complete guide on this.
Best methods to check Roblox Server Status.
Disable The Privacy Restrictions
A privacy restriction restricts accessing contents on the Xbox, due to which Roblox Error Code 110 may arise. So, to fix this error code, you should disable the Privacy restrictions as this may block you to join some games.
Press the Xbox button and access Settings, and click on the icon.
Now, select the "A" option to highlight all settings.
Again press A, and in the next screen, press Right on the joystick.
Now, choose the "Privacy and Online Safety" option and click on this option.
Press the A button by highlighting the "Xbox Live Privacy" option.
Next, select "View Details and Customize".
Scroll down, and select the Game Content option, now using your joystick go on the "You Can See and Share Content" option.
Press A and this will open a menu, select "Everybody" from the appeared list, and press the Xbox button.
Now, launch the game, and see if the problem is solved or not.
Clear the Cache on Your Xbox One
Press and hold the Power/Xbox button until the console turns off completely.
Now, unplug all the power cables from the console.
Next, press and hold the power button several times.
Wait for 2 to 3 minutes and then replug all the power chords.
Press the power button to ON your console, now the cache should be cleared.
Internet Connection
Check internet connection as this may also cause the error code 110 on Roblox. Additionally, you can also reset your DNS settings. A good internet speed prevents many errors so, check if your internet speed is as much as required.
Contact Roblox Support
If the issue is as it is, then go for customer support help. Here is an official link to contact Roblox Support. Follow this link and get your answer.