Your streaming on Amazon prime may be hindered by the Amazon Fire Stick Playback_Renderer_error. There is a list of possible actions to fix this error code. Today, in this guide, we will explain all these. So this tutorial is going to be much useful for all who are frustrated by this error code.
The exact error message that users may face on their screens is:
"Video Unavailable – we're unable to play your video right now. Please try again in a few minutes or contact amazon customer service at https://www.amazon.com/ww-an-android-contactus. Error code: Playback_renderer_error"
However, the exact error message is Playback_renderer_error, but, users are also typing online for Amazon Playback Renderer Error, so we would like to tell you that both are the same. 
When do users get Amazon Playback_Renderer_Error?
Generally, users are seeing this Playback_renderer_error message when they are trying to stream a movie, TV show, or other content on their Amazon Fire TV, Fire Stick, android device, or on their TVs as well. To fix this error message, a simple restart of the application is enough. In addition, power-cycling of the network device, updating your streaming device, and reinstalling the application may also help in fixing the error.
Fix: Playback_Renderer_Error on Amazon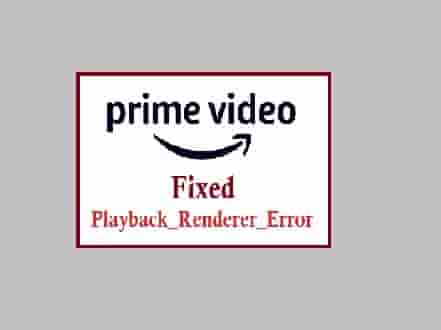 A Simple Restart
If you are getting this error message then, do a simple restart of your streaming device and the application as well. For most of the users, this has proved a helpful action to resolve this issue.
Power Cycle your Device. (Streaming and Network both)
Unplug your devices (Network and Streaming both), and wait for approximately 30 seconds. Now, replug all the cables and wires and start the device again. Next, try to launch the Amazon application and see if the error message is still appearing.
Update the Device to Its current version
Update the device software to its current version if available. Sometimes, an outdated firmware or version of your device may hinder the connection between your device and the amazon application.
Additionally, check if the application needed an update. If yes, then update the application version as well.
Disable Hardware Acceleration
Go to the Settings menu of your Amazon Prime Video app.
Next, select- My stuff option.
Now, select Stream & Download.
Have a glance at the Use hardware acceleration option.
Reinstall The Application
If your device and the Amazon app are updated and still you are getting the error message then, uninstalling the application and reinstalling it is the last option. 
Final Thoughts
Playback_renderer_error may appear on any device like Fire TV, Amazon Fire Stick, Android, or Smart TVs. Restarting the application and the device, power cycling your network device as well as streaming device, and finally, if nothing helps, reinstalling the application are the best possible methods to fix this issue.
We have tried to include simple and easy-to-do methods in this guide. Which method helped you? Please tell us in the comment box. If nothing helped, feel free to contact Amazon Support.
Questions and Answers
How do I fix playback renderer error?
To fix the Playback Renderer error the first thing you should do is- exit the app and relaunch it. If this doesn't help, Disable Hardware Acceleration.
What does renderer error mean on Amazon Prime?
Generally, renderer error occurs if an inability to calibrate of software with the drivers and this could happen due to any reason or bugs in the driver. Additionally, this error occurs may also occur due to some glitch in the browser or application.
Related Searches
Playback renderer error Amazon Prime Android
Playback renderer error Amazon Prime Samsung
Unknown playready error
Playback Renderer error on tablet
Amazon Prime playback error 10 minutes
Code ex1 renderer error
Related Articles:

Amazon Fire Stick Error Code 7136

Amazon Fire Stick Error Code 8056

Fix Amazon Prime Error Code 2063