Are you facing Adobe Error Code 119? Is your downloading stuck in the middle, and the apps are failing to complete the download? Do not worry, just try the simple steps mentioned in this article and complete the download process of your desired app from the creative cloud.
 Adobe is a multinational computer software company that has developed many products to make the computer world easy and better to use. Illustrator, PhotoShop, PDF reader, and many software are being used by millions of people, and the credit for these software goes to Adobe. As Adobe has a lot of software, millions of downloads are performed daily by users. And sometimes, users may face Adobe download Error Code 119 while they try to download any app from the creative cloud.
Let's dig more about this error and understand why it appears and what does it mean?
What is Adobe Error Code 119?
According to Adobe's official help page, error code 119 is a connectivity error code that usually appears when users try to download apps from the creative cloud or CC. In other words, this error code implies an issue connecting to the server. As causes of this error, you can consider a poor or unstable internet connection, firewall settings, or sometimes, security software such as an Antivirus.
There are a lot of error codes that Adobe knows, and you can find them here. One of the most common errors that users may face is Adobe error code p206, visit this link and fix it.
Now that you know what this error code is and why this appears, so let's see how to fix this.
How to Fix Adobe Error Code 119?
Follow these simple steps and flush the error code 119 from your screen: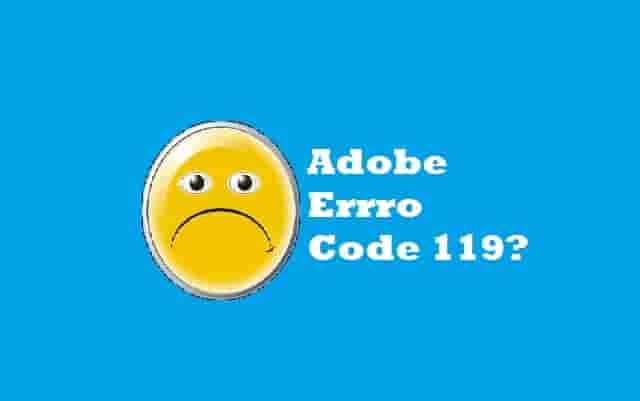 Check Internet Connection
Since Adobe has many software and some of them are heavy in size, so to download such type of software, you need a stable and speedy internet. If your internet connection is not good or unstable, the downloading process may stop in the middle, and you can get the error code 119 on your screen. 
Sometimes, when you initiate downloading the apps, the internet is good but in middle it becomes unstable, and as a result, the downloading process may stop.
So, try to download Adobe apps when there is a speedy and stable internet atmosphere available. This will prove as a big help to prevent downloading errors such as 119 and many more.
Check Firewall Settings
The firewall may restrict the downloads, as a result, you may face an error. Sometimes, you may get a prompt when a program tries to access the internet. Many users found that Firewall was the cause for them to get the error code 119. 
If it is prompt, allow the creative cloud to access your internet.
Disable Antivirus Software
Antivirus software may block some files and prevent the downloading process to complete. So the best practice to play safe with downloading is to disable your antivirus software temporarily when you try to download any app from Adobe Creative Cloud.
After disabling the software, check if the download is resumed again and if the error code has been gone or not.
Additionally, if you use a Proxy or VPN server, Disable the Proxy or VPN and try again.
Delete Temporary Files
Many temporary files may be stored on your system memory. Some of them may get corrupted sometimes. So, delete all the temporary files stored on your computer and retry.
Type- %temp% in the search bar and hit the Enter button on your Keyboard.
Now, select all and press the shift+delete buttons, and then hit the enter button.
Install Pending Updates
If any pending updates are available, go and install them before downloading the Adobe app. Sometimes, an older version of your installer or OS may create a problem. 
You can set updates to automatic, in this, applications automatically update when they found any update. Besides this, you can download an update manually.
Contact Support
If you have applied all the methods and the error is as it is, don't feel shy to contact Adobe Support. Provide all the pieces of information that they need from your side and you will get help as soon as possible from their side.
Conclusion
If we conclude the error, Adobe error 119 is a download error that may appear mostly due to interruption of the connection to the server. To fix this error code, check the internet connection, disable the firewall or allow CC to access your internet, disable the proxy server, disable antivirus software and install pending updates. If nothing helps, contact Adobe support without any shyness.