Adobe is a multinational computer software company that provides many online tools and software that helps incredibly in the technology field. Some users have reported Adobe Error Code P206 that is appearing on their screens. This guide has included a brief description of this error and the solutions too. Let's get this information and flush this error code from your screen.
What does Adobe Error Code P206 indicate?
According to an Adobe Community Professional, Adobe Error Code P206 indicates an issue in connecting your device to the Adobe server. A poor internet connection, antivirus software, or corrupted system files may cause this error code. Additionally, blocking the program from firewall settings may also cause this error code.
According to a user, the error message said for him to change the software security settings but, usually, it says that "we are unable to reach the Adobe server. Please check your internet connectivity and firewall settings, then click "Retry". (Error Code: P206)"
How to Fix Adobe Error Code P206?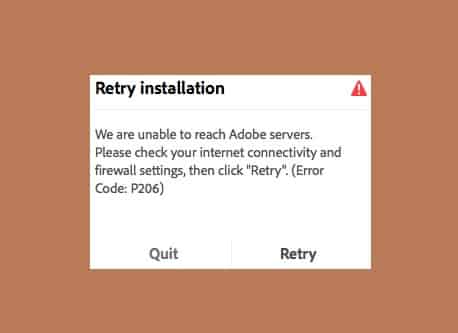 Check Adobe Issue Status
The first thing you should do is to check the Adobe Issue Status. When you visit this page, you see issues with their respective software and tools. If nothing is going on then, proceed to the next step but, if any issue is happening and showing on this page, wait until it gets fixed. Once, it fixes from the Adobe side then, you can try again and check if the error code is still appearing or not. Hopefully, the error should not appear again.
Disable Antivirus Software
Whether you are a Windows user or an iOS user, an antivirus may block some files when you are trying to download any software from Adobe. So disabling your Antivirus software may help to fix the issue.
Follow guide accordingly to do this:
How to Disable Antivirus Software on MAC
Disable Antivirus software on Windows 10
Check Firewall Settings
Open the Control panel and click on Windows Firewall. (Just type it in the windows search bar and open the Firewall)
Click on the "Turn Windows Firewall ON or OFF" link from the left side of the window.
Make sure the box next to the text "Block all incoming connections, including those in the list of allowed programs" is unchecked. If this box is checked, the system doesn't allow to download of any software or application.
If the Application is downloaded, then allow this from the Firewall settings. (Open Firewall Settings and click on the First link text with "Allow an app or Feature Through Windows Firewall" and search for the Adobe app and check the box next to this and click on OK button)
Check Network Settings
Click on internet options and under the Advanced section, check the boxes next to the texts- use TLS 1.0, 1.1, and 1.2.
Now, click on Apply and then OK to save changes.
Restart downloading and check if the error code P206 is not appearing.
Try A different network
Sometimes, this may help as a network may also include some glitches. So switching to a new network may solve the problem.
Download with a direct link
If the above is not helping then, we would like to say to download with a direct link. Here is a list of applications with directly downloadable links.