Upgrading your system is a good thing to do as this can get a good performance after doing this. Some users may face Windows 10 Upgrade Error 0xc1900208 during this process. Let's study this error code and resolve it. 
What is Error 0xc1900208 on Windows 10?
Error 0xc1900208 is an Upgrade Error on Windows 10 that indicates the installation of an incompatible application due to which the upgrade process is unable to complete. In addition, antivirus software too may block some files that may cause this error. Find all the incompatible applications and uninstall them. After that, try to complete the upgrade process. 
Generally, the upgrading process completes without any hurdle but, sometimes it may hinder by an error code. So, let's start troubleshooting this upgrade error without any doubt.
How to Fix Windows 10 Upgrade Error 0xc1900208?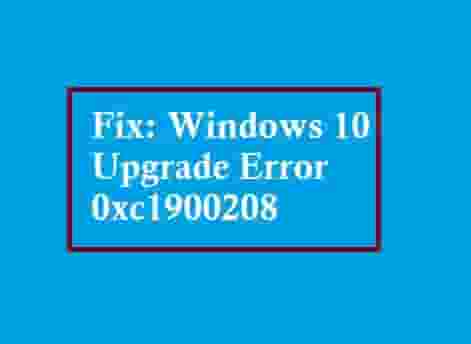 Find Incompatible Applications and uninstall
Now, type- C: WindowsPanther in the search bar and hit Enter.
Next, from the right side of the window, search for the file- Compat*.xml.
Now, open this file by clicking on it.
Here, you will get applications that are not compatible with your system.
Uninstall these applications using Control Panel, and try to upgrade again.
After uninstalling these applications, clear the temporary files too, as some residual or temporary files may be left, which may cause another issue in the future. So clearing these temporary files is good to do.
Access temporary files by opening Run Dialog Box and typing %temp% in the search. Select all the folders and delete them. That's it.
Reset Windows Update components
Run command prompt as an administrator.
Now, type the following commands one by one:
net stop bits
net stop wuauserv
net stop appidsvc
net stop cryptsvc
Get a backup of the SoftwareDistribution directory using these commands:
ren %systemroot%SoftwareDistribution SoftwareDistribution.bak
ren %systemroot%system32catroot2 catroot2.bak
In the end, use these commands:
net start bits
net start wuauserv
net start appidsvc
net start cryptsvc
Now, restart your computer and start upgrading your system again. The error code should not pop up now.