Lennox unit covers many security features. Whenever an issue is detected, it implies an error code. Today we will cover troubleshooting of the Lennox Error Code 201. We will see what this error code implies, and of course, the possible solutions that can be performed from your end. 
What is Lennox Error Code 201?
Lennox Error Code 201 usually indicates an issue with the blower motor of the furnace. This error code appears when the furnace is unable to contact the blower motor, as a result, it doesn't start and throws an error 201. A Blower motor is a very important part of the furnace as this distributes the heat. Whenever it malfunctioned, heat distribution will be hindered, and in this situation, the Lennox unit may throw an error code.
What do Security features do in a Lennox Unit?
Security features are good to keep safe use of a Lennox unit, and whenever an error code appears means an issue is with your unit, and you have to resolve that. Sometimes, some errors are for a while but, sometimes, they may take a longer time to get fixed. 
Additionally, some errors can not be resolved by a user until he/she has technical knowledge. For that users, get in touch with a good technician will always be a better solution. So, let's gather the knowledge of troubleshooting of error code 201.
Other Lennox Troubleshooting Guides

Lennox Icomfort can't Connect to the Smart Hub Device

Fix Lennox Error Code 292

Lennox iComfort App Not Working

Fix Lennox Error Code 276
Troubleshooting Steps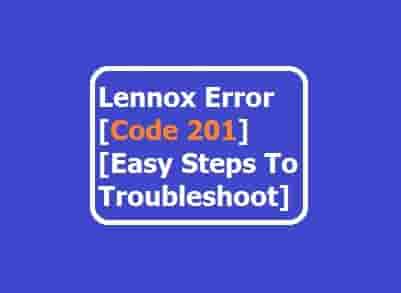 Troubleshooting of error code 201 is very easy sometimes, but this can be difficult if any hardware issue has happened. Let's start with the first step.
Turn Breakers OFF and ON
A breaker monitors the circuit and in the event of complications, such as an overload or a power outage or sometimes just a fluctuation, it immediately shut off that circuit. So, if any power outage happened and since then, the error code 201 is happening, turning OFF the breakers for 30 seconds and then back ON may help.
Check If an issue is with the Motor
Lennox Error Code 201 refers to an issue in communication with the indoor blower motor. So, if after applying the first step, this error code doesn't fix and the communication doesn't restore, then, you should check if there is an issue with the motor. Test the circuit and motor with a tool called ECM motor tester.
Not much technical?
If you don't have the knowledge to deal with a circuit board or with the motor then, you should get in touch with a professional. Spek with Lennox Associates, and they will guide you with further actions.