Lennox provides its app for users to check the temperature and some other functions of the unit. Some users reported that Lennox iComfort App Not Working properly. Sometimes, the app is getting freeze, and sometimes, a black screen is appearing. Some users also said that the app is getting loading continuously and then, reverting to its home page or the main screen of the phone. 
There can be several reasons when an app stops working properly. Some very useful actions are available on this page to deal with such types of issues. Hoping, these actions will help to get good performance to Lennox Icomfort App.
Possible Reasons  When Lennox iComfort App stop working
Lennox Icomfort App Not Working can be a result of several things, including a poor internet connection, server issues, compatibility issues, and sometimes, version. Restarting your internet device, checking compatible versions of the device, and getting an updated version may help to get good performance to the application.
Let's see what exactly the users are facing when they are going to use the Icomfort App.
What exactly users are facing:
Trying to open the app, and it immediately closes.
Icomfort cannot communicate with the equipment, unable to connect to Smart Hub Device.
A black screen is appearing.
Usually, users see such types of problems when they are going to use the Lennox Icomfort App on their phones.
Fix: Lennox iComfort App Not Working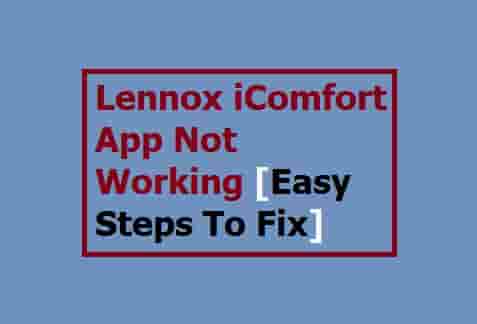 Now, come to the possible solutions and see which one is going to work for you.
Internet
The most common reason is a poor internet or wifi connection. Usually, the Lennox Icomfort app shows a glitch when it does not get proper internet. So, as a first solution, you should check your internet connections and speed. If many devices are connected to the internet, disconnect the rest, and check if the app is working properly or not.
Compatibility
According to the official announcement, the iComfort app is compatible with Apple smartphones and tablets having iOS 7 and above. For Android smartphones and tablets, it is compatible with Jellybean 4.1 and above. So, see your phone's OS version to check if your phone is compatible to use the Application or not. 
If your phone is not having a compatible version then, the Lennox iComfort app will not run properly and show glitches.
Updation
Some users found that when they updated their OS version, the application stop working. Updation of your phone's OS version can also cause conflict sometimes. In this case, uninstalling the application and reinstalling may help.
Server Issue
Sometimes, a lot of users start accessing the application at the same time. In this situation, server load may increase, as a result, the application may stop working. Waiting for some time and then trying again will help in this situation. 
Tell us, which action is helpful for you, and if you are still facing the problem, you can speak with a Lennox Associate. Visit this Link and call on the number mentioned on this page for better assistance.
Related Error Guides:

Lennox Error Code 411

Lennox Error Code 292

Fix Lennox Icomfort can't Connect to the Smart Hub Device

Lennox Error Code 901

Lennox Error Code 276