When we talk about common errors in Roblox then, we can't skip Roblox Error Code 267. This error code appears with the text associated with it- "you have been kicked from the game error code 267." if you are getting this error, it is not fixed that you have been banned. There can be several reasons behind this, and these are mentioned in its description.
What does Roblox Error Code 267 indicate?
Roblox Error Code 267 indicates detections of some suspicious activities and may usually behave like this when it detects a missing component to play or load your selected game. Also, users may face this code if any issue is from the developer's side for that particular game. In addition, sometimes, poor internet, faulty wifi connections, or banned account may also cause this error code.
What to do if you have got banned by Roblox?
Sometimes, you may face an error message on your screen which says you have been banned and kicked. Basically, this means that Roblox detects some missing game files or some specious activities from your side. Sometimes, you may get banned by Roblox. In this situation, don't forget to read the guide on- How to Get Unbanned From Roblox.
If you have got banned by Roblox then, this can be one of the possible reasons to see Roblox Error Code 267 on your screen. 
How to get rid of error code 267 Roblox?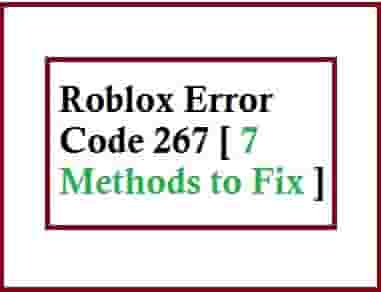 What if you are just trying to enter a game and see an error code on your screen. No need to worry because we are here to provide you best possible solutions. So, just follow these solutions to fix Roblox Error Code 267, which is obviously what you are getting if you are on this webpage.
Check Internet connection (Including The Speed)
If you don't have a proper and stable internet connection then, this is possible that you have been kicked from the game, as a result, you may face error 267. Sometimes, the server may not recognize the internet, so make sure you have checked all your connections and speed properly.
You can crosscheck your connection by inserting the LAN cable into your computer. If it is working properly then, there is a surety that your internet connection is good and ready to play.
Disable Antivirus Software
This can also help in fixing the error, as antivirus software may block some game files which the Roblox system may consider as unusual activity, as a result, you may face an error code 267. You can disable it for temporary, not permanent. After some time, when you needed, you can enable it as previously.
Guide On- How to Disable Antivirus software temporarily?
Check For your Browser's Update
There are many browsers are present, but to play Roblox normally, you need to select the best one. Mostly, users use Google to play Roblox that is the biggest browser in the world. That's why we are going to tell you that you have to check for its update. Here is a complete guide on-
How to update your ChromeOS using simple methods.
Note: If you are using another browser, you need to follow the appropriate methods to update that particular browser.
Reset Internet Browser Settings
Click on the three-dotted button from the top-right corner of the window, and choose Settings from the list.
Now, click on the Advanced option which will be at the bottom left corner of the screen.
Now click on Reset settings (in some other systems it will appear as Reset and cleanup), and Select- "Restore settings to their original defaults."
Next, close the browser and try to open your selected game again.
Disable Ad Blocker
Like antivirus software, Ad blockers may also block some files that may necessary to play the game. So, if you are using any, you should disable it too, and maybe it will help in fixing the error code.
Check Browser Security Settings
You should have granted Roblox all of your security permissions to launch. Because sometimes, due to blockage of security permission, error code 267 may appear on your screen.
Uninstall and Reinstall the Roblox
Finally, if none of the above actions fixed the error code, you should uninstall the Roblox and then reinstall it. By doing this, Roblox's latest version will install, which is good, and also helps in fixing various errors.
You can use the control panel to uninstall it and then go to its official site and install it again.
Other Roblox Error Codes:

Roblox Error Code 277

Roblox Error Code 103

Fix Roblox Error Code 610

Roblox Error Code 529