Roblox is a creative platform that allows people to develop games or play. But, getting an error code can be irritating for the users as they get restricted for the time until it is resolved. Roblox Error Code 529 is another error that has been added to the list as many users facing this error code. 
We have gathered some information, let's see how this will help you to fix this error code. 
What Roblox Error Code 529 Indicates?
Roblox Error Code 529 indicates that there is an issue with the Roblox server right now. Also, users may get this error code when there are any internet glitches on their devices. Sometimes, users can get this error code if there is an issue with their user accounts.
Error Code 529 on Roblox clearly says that "We are experiencing technical difficulties. Please try again later." This means; due to some technical glitches or maintenance work Roblox server is unable to process your request.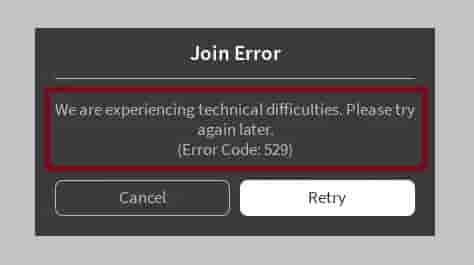 How to Fix Roblox Error Code 529?
There is not an exact solution to this error code but, we have some useful workarounds that might help to fix this error code. As this error code states that the issue is from the Roblox server-side, you should wait until they fixes it. If many users are facing the same issue then there is a good chance there is a server issue, and that will be resolved by Roblox. You should also keep an eye on the Roblox official Twitter account as they tweet on it if there is any issue is going with Roblox. 
In the meantime, if only you are getting this error code, you can perform these steps that can help you to get rid of this error code.
Check Internet Connectivity.
Log out and log in to your Roblox Account.
Check Roblox Server Status.
Try Roblox on another device.
Some users found that the logout and login helped them to resolve this issue. From here, you can check the server status of Roblox. 
Hope! This guide helped you. 
Hey, have you ever get Banned by Roblox? 
Here is a guide: How to Get Unbanned From Roblox
Related Errors And Solutions:

Roblox error code 901

Roblox Error Code 769

Don't skip to fix Roblox Error Code 277