Like Windows 10, there is also an inbuilt feature in Windows 11 that allows users to adjust the webcam brightness. However, Microsoft is continuously announcing its requirements to use Windows 11 without any hurdle, still, there are a lot of questions asked by the users over the past few weeks. Today, this guide is going elaborate How to adjust Webcam Brightness in Windows 11. If you are worried and looking for a proper answer then, scroll down this page, and you will get your answer.
Why do you need to adjust your Webcam's Brightness?
Digital work is on the boom in this era, and the Computer is a necessary device for all. Setting adjustments to your PC becomes more important in this case. Continuously looking on a screen may affect your eyes, and a relative adjustment of the brightness can give comfort to your eyes.
Screen brightness is different from Webcam brightness. This is done to improve your face visibility during an online call or video conferencing. So, this is important to know how you can adjust this.
Also, Read Best Free Video Conferencing Apps in 2021. If you are a Linux user, and searching for which conferencing apps are best to use then, you can get a list of Best Video Conferencing Apps For Linux from here.
How to adjust Webcam Brightness in Windows 11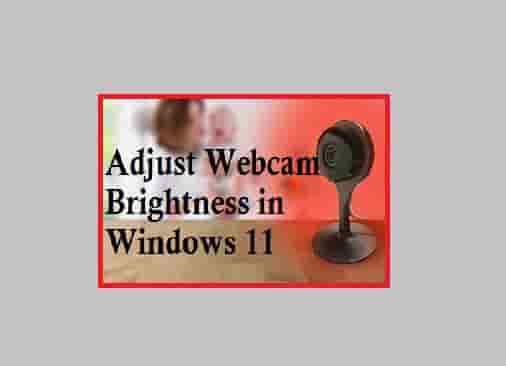 There are two inbuilt methods by applying them you can do this easily. The first is using the Camera app, and the second one is using the settings application.
Also Read: How to Use Camera App in Windows 10.
Use Camera App:
Open Taskbar and Search for the camera in the search box area.
Now, Click on the result coming.
Next, locate the settings gear icon and click on it.
Click on the toggle button with the text option- Pro mode.
Now, click on the brightness icon.
From here, change or adjust the brightness of your webcam using the lever.
Now, come to its second method.
Use Inbuilt Settings Application
Access Bluetooth & Devices.
Click on the Cameras option from the list.
Now, under the connected cameras option, click on Cameras again.
Navigate for the Default image settings section and expand this.
Here, you can adjust the level of brightness using the plus and minus signs. That's it.
Frequently Asked Questions by Users
How do I adjust Webcam Brightness in Windows 11?
Well, you can do it by using an inbuilt camera application or settings application. Detailed steps are mentions in this guide.
How do I adjust the brightness on my webcam?
Open camera app-> click on brightness icon-> use the lever to set or adjust the brightness of your webcam.