Microsoft OneDrive is a place where you can put your data to access it in the future for free. While accessing the data, or during the log-in to this, you may face a OneDrive Error Code 0x8004de40. This will be quite irritating to you, but hopefully, there are some easy solutions to resolve this error code. 
In this guide, these solutions are mentioned in detail. You can take benefits of these. For now, this issue will not bother you more.
What does Error Code 0x8004de40 on OneDrive indicate?
Microsoft admitted that OneDrive Error Code 0x8004de40 indicates an issue connecting to the cloud. This error code may appear due to a poor or faulty internet connection that can be the main reason. Additionally, this may also arise due to antivirus software or proxy.
A proper fixing guide may help you in resolving this issue. We have tried to embed the best possible fixes in this guide and hoping this will help you. From here, you can move to its troubleshooting process.
How to Fix OneDrive Error Code 0x8004de40?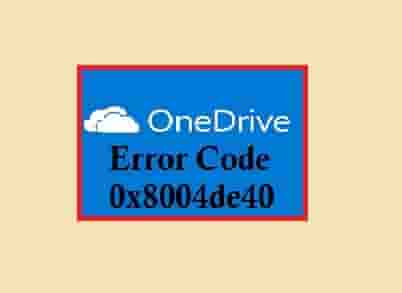 Hopefully, an individual can resolve this error code easily. Some selected methods of action are required to do this, and these are mentions below.
Troubleshoot internet connection.
Disable antivirus software and proxy settings.
Internet connection
A poor internet connection may be the main reason behind the error code. So make sure all the wires are connected properly and the wireless router is up and running properly. You can check your internet speed and if it is not good as required then ask the service provider and tell them to look into this.
Disable Antivirus and proxy server Settings
Antivirus software helps to keep safe your system from malicious attacks but, it can also block some application files sometimes and cause an error. So we would say that you should disable the antivirus software temporarily to avoid the error.
Also, disable the proxy server settings.
Type inetcpl.cpl in the search bar and press Enter button ok Ok option from the screen.
Under the connections section, click on the LAN Settings option.
Now, check the box with text- Automatically detect settings, and uncheck the box with text- Use a proxy server for your LAN, respectively.
Now, click Apply button and then OK to save the changes.
Enable TLS options
Follow consecutively two steps of the above-mentioned method, and rather than clicking on the connection section, click on the advanced section.
Now, under settings, check the boxes with the text- Use TLS 1.0, Use TLS 1.1, and Use TLS 1.2.
Click on Apply button and then Ok to save the changes. Now, reboot your system, and check if the OneDrive Error Code 0x8004de40 is not appearing.
Reset Winsock
Open the command prompt as administrator. (type cmd in search and right-click on Command Prompt option and select Run as administrator)
Now, type- Netsh Winsock reset catalog command.
After successfully executing this command, restart your PC and start using OneDrive.
Reset OneDrive (If nothing helps)
Note: Resetting OneDrive doesn't mean that you will lose your data as it only does a resync of the data.
Open Run and type: %localappdata%MicrosoftOneDriveonedrive.exe in the search bar and hit OK.
This can take some time to run this command properly, and when it gets completed, relaunch the OneDrive, and check for the error code.
Related Articles:

OneDrive Error Code 0x8004da9a

OneDrive Error Code 0x80070194