If you have been recently noticed the Paramount Plus Error Code 3205 and eagerly looking for a solution then get relaxed, this guide will tell you what to do. This error code can affect users not only on TVs but many other devices, such as fire Sticks, web browsers, etc.
A lot of users may face this error at the same time. So we decided to produce a dedicated guide on this error so that they can resolve this error and enjoy their watching on Paramount Plus.
Paramount plus, which is also known as CBS All Access provides popular shows like- Start Trek: Picard and The Good Fight. However, like all streaming platforms, this can also, have some share in technical issues and errors. 
We understand how frustrating can be when you get stuck during watching your favorite show. That's why, this guide is for you, follow the steps mentioned in it and take the benefits and solve your problem so that, you can again start bug-free streaming.
A Short Description: Paramount Plus Error Code 3205
As users say, Paramount plus error code 3205 is a playback error, and when it appears, users get stuck with an endless loading loop. "Video Unavailable" with the error code may appear on the screen during the streaming. 
As a solution, we have included some simple tasks that can help you. These tasks are nowhere but in this guide and mentioned below.
How to Fix Paramount Plus Error Code 3205?
Including the methods mentioned in this guide, we would also suggest you visit the Paramount Plus Help center in case you didn't get help. But, first would like to say that follow the steps mentioned below then, after that contact the support.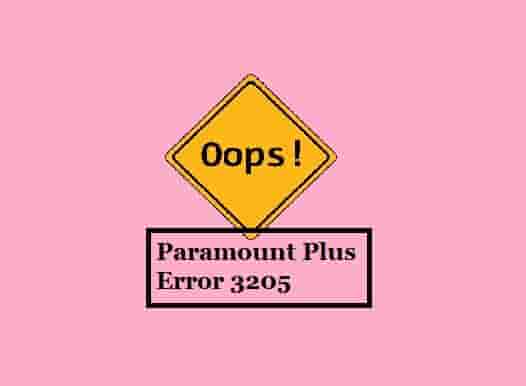 Check Browser
If you use Paramount Plus on your web browser then, check if your browser is compatible with that or not. For detailed knowledge visit this page, where you can get a list of all the supported browsers explained by Paramount Plus itself. Incompatibility with your browser may cause error code 3205 on Paramount Plus. Additionally, check if any update is available for your streaming browser. 
Additional Tips:
Reload your browser and try again.
Try opening Paramount on a new page.
If possible, switch to another browser and try streaming on Paramount Plus.
Check Internet Connection
The internet can prove as the main cause of getting the Error code 3205. So, ensure that a stable internet connection is available to stream. The minimum streaming requirement is 4 MBPS or more.
Perform a Speed Test of your internet. If it is too low to stream or does not meet the minimum requirements to stream content on Paramount then, contacting your internet provider would be your choice.
Rather than this, you should also perform a reboot of your router and see if this increases the speed.
Update Paramount Plus 
Sometimes, this is required to update the Paramount Plus to its latest or current version so that playback errors such as 3205 can not prevent you from streaming. When you use an old version of any application means- you are sending an invitation to an error code. So always try to use the latest version, and keep away from many errors.
Force Quit the application
Force quit the Paramount plus application and try again t stream your choice of content. See if this helps, as doing this will accomplish a fresh restart to the application.
Clear Cache and Cookies
Sometimes, corrupted files, cache, and cookies may lead to this error. So, clearing them may fix the problem. Mainly when you use a browser to stream, browsers collect or save cache and cookies, and sometimes when some files got corrupted, they may prevent the application to stream perfectly. In this situation, clearing cache and cookies data may help.
Disable Ad Blocker
If you use an adblocker extension on your browser, disable it and check if this fixes the issue. Click on the three dots on the top-right corner of your browser's screen (Chrome). Next, click on More Tools and select Extensions. Now, you will see a list of all extensions that you have ever installed on your browser, search adblocker, and click on the radio button next to that. This will disable that adblocker extension. To uninstall the extension, click n remove and follow the instruction to complete the process.
Conclusion
Paramount Plus error code 3205 is a playback error that can easily fix by refreshing the browser page, clearing the cache and cookies, disabling the ad blocker, installing the latest update of the Paramount Plus, and force quitting the application and relaunching. Additionally, if these fail to fix the problem, uninstall the Paramount plus application and reinstall it again.
Related:
Fix Paramount plus error code 1106

How to Delete Paramount Plus Account
Frequently Asked Questions
How Do I Fix Paramount plus error code 3205 on my LG TV?
To fix Paramount plus error code 3205 on LG TV, just do a power cycle of your device or follow the above-mentioned methods.
Does the Error code 3205 on Paramount common on all devices?
The error code 3205 can appear on any device such as LG TV, Samsung TV, or Xbox. So yes, you can say that this is a very common error for all the users.
Paramount plus error code 3205 on Samsung TV, How to Fix?
To fix Paramount plus error code 3205 on Samsung TV, check the internet connection, clear the cache of the application, and check for updates for your TV firmware as well as for the application.
How do I update Paramount Plus on LG Smart TV?
If you have LG TV then, it automatically checks for an update but, if you wish to update the Paramount Plus app on your LG TV manually then, these are the steps:
On your Remote Controle, press the Menu button.
Now, scroll down and select the System option.
Next, select "Check for Updates."
How do I update Paramount plus?
These are the steps that you should follow:
Open the Paramount plus app, and select "Settings."
Then select "Software Updates."
At last- select "Update Software".