Users may get an anonymous error message when they just try to sign in to their Microsoft account. This error message looks like Microsoft Account Too Many Authentication Attempts. If you just want to access your Microsoft account and see such type of message then, prepare yourself and read this guide to get rid of this message from your screen. 
Microsoft provides various features and applications that any user can access if he/she has a Microsoft account. Sometimes, users can face an error message that says too many authentications and prevent them to sign in. Here is how you can deal with this issue.
Microsoft Account Too Many Authentication Attempts: A brief Introduction
The exact error message that says "The Microsoft login server has detected too many repeated authentication attempts. Please wait a moment and try again" usually appears when the server fails to respond to your connection request. Waiting for some time and try again can be a solution but, sometimes this does not help.
In this situation, what will you do? Follow this guide and get helpful tips to resolve this issue.
Fix the "Microsoft Account Too Many Authentication Attempts" issue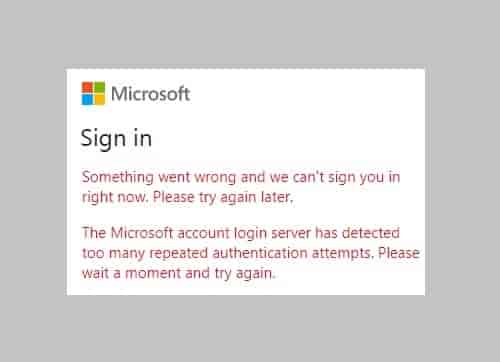 Here are some solutions to clear this message out, let's have a look at these.
Sign in to OneDrive First
If a user gets this error message when trying to open a Microsoft app like Outlook, OneNote, or others, then this will help out. Just sign in to your OneDrive account first and then try to access the application that you want. Now, check if the issue has been gone or still appearing, hopefully, it should go.
Use a browser to Sign in
Generally, this error message appears when users try to access the desktop app, so sign in using a browser may help. You can clear the browser cache if the issue is appearing on it also. After clearing the cache again try to sign in and check if the issue is gone or not. We hope it would be. If not, then follow the next step.
Flush DNS Cache
The corrupted DNS caches may cause a sign-in issue, so flushing them out will help to get rid of the "Microsoft Account Too Many Authentication Attempts" issue. 
Open Command Prompt.
Enter these commands one by one in sequence and then restart your device.
Additionally, unplug your router and wait for 30 seconds and restart it if the issue is still appearing. This will power cycle your internet device, and hopefully, fix the issue. 
If still, the issue is the same as it was then, reset your Microsoft Account password.