If you have a Lennox unit, and it triggers Lennox Error Code 413 then, this guide can help you out. This error code is not a big task as some simple actions may help to fix this out. First, we will tell you what this error says then we will come to its fixes.
What does Lennox Error Code 413 say?
Lennox Error Code 413 generally indicates a high-pressure lockout and affects the outdoor unit. Usually, a dirty coil, issue in the fan motor, issue in reversing valve, or a restriction in the refrigeration cycle may cause high pressure. When this error code appears, the thermostat shuts down the outdoor unit and automatically gets disappears when the system detects the issue is no longer. 
However, calling a professional technician is a good option to fix this issue, as this can be caused due to several reasons but, here are some tips that may help to fix this from your side.
Tips to Fix Lennox Error Code 413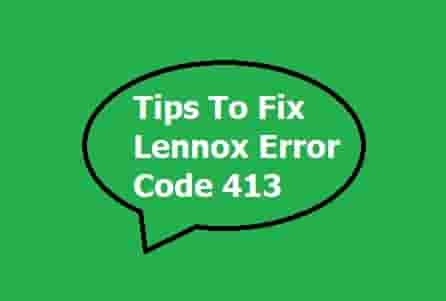 The first thing you should try is to On-Off the power breakers of outdoor and indoor units. Sometimes, this process starts the function of the thermostat, and the error code gets clear.
When you perform this process, wait for around 5 minutes and check if the issue has gone or not. Usually, this helps but, if in your case, it doesn't, then move on to the next tip.
Check if the outside unit is dirty. Sometimes, due to storms, dirt or some other obstacles may stick, which can increase the high pressure. 
So, you should check and clean your outdoor unit. Make sure, do not use high pressure, as this can bend the fins. One more thing that should be notable is that before going to clean your outdoor unit, turn the breakers Off.
After cleaning the unit, start the breakers and check if the issue is persisting or not. If yes then, move on to the next tip.
This step includes dealing with a multimeter as when clearing the unit doesn't fix the issue means there is any issue in the capacitance, board, filter dryer, or the metering device. 
Note: We will suggest calling a technician if you don't know how to use a multimeter. Contact Lennox Customer Support for better assistance.
If you know to deal with a multimeter and found an issue in the capacitor or line or the board then, replacement of that part with a new one may fix the issue.
Conclusion
We have tried to explain simple steps to fix the error code 413 on your Lennox unit. If the issue is still appearing after applying all the tips then, contactin Lebnnox support and scheduling a meeting with a professional technician will be a good option for you.
Other Lennox Guides

Lennox Error Code 434

Lennox Error Code 201

Fix Lennox iComfort App Not Working

Lennox Icomfort can't Connect to the Smart Hub Device

Lennox Error Code 292

Fix Lennox Error Code 276