Cold or increased temperature can stop you from doing your work. Lennox unit keeps you in comfort from decreased or increased temperature. However, a Lennox unit is designed to provide comfort, it can also throw an error. Generally, a Lennox unit has many security features and throws an error in the indication of a security failure or damage. This guide is going to explain the Lennox Error code 434. 
If you are getting this error then, step forward with this guide, and see what this is and what should you do.
What does Lennox error code 434 indicate?
According to the official manual, Lennox error code 434 typically indicates an electricity disconnectivity. This error code arises when the outdoor unit lost communication from the power source for more than 3 minutes. 
There can be many possibilities when your unit loses electricity connectivity. Lets, see the most possible cases and try to resolve the issue.
Access our complete Lennox Error Guide.
Causes and solutions of Lennox error code 434
When you know the cause, the solution becomes easy. So, we will talk step by step causes and their solutions.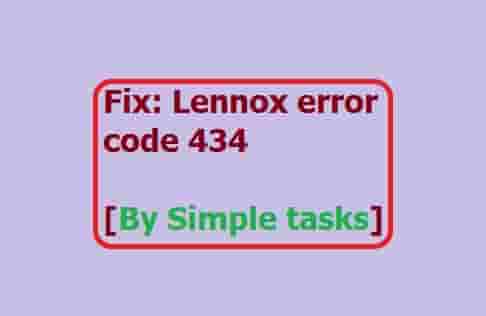 Power Cycle
First of all, power cycle the inverter by de-energizing the contactor. De-energizing the contactor should be done for 2 minutes and then energize it again. Sometimes, doing this may help. 
Check for loose or disconnected electricity connection
Many times this may happen that the wiring is loosened and causing a disconnectivity from the electricity. So, firstly see if it is happening or not. If you don't know how to deal with or have less knowledge of electric equipment then, go with a technician.
Check for a short circuit
This is a common situation that may happen with your outdoor unit. An obstacle like a leaf, lizard, or any other reptile may crawl into the outdoor unit and cause a short circuit. Unscrew the board and check if it has happened to you. If it is, then the board needs to be replaced according to the damage. If only wiring has been burnt and can be fixed easily then, do this. Our recommendation: if you will call a verified technician, he/she will make it easy for you. 
If you have a good knowledge of electric equipment then, you can do this on your own. After, changing the board and starting the electricity connectivity again, the error code 434 should go.
Conclusion
The error code 434 on the Lennox unit is a result of an electricity disconnectivity. To fix this error code mostly electric types of equipment are used. So we will recommend, if you don't have a good knowledge of such type of equipment, get in touch with Lennox Associate, and they will guide you with better options.