Apple TV is a streaming media player means: It collects content from the internet and displays it on your TV. But, before watching the contents on it, some setup is required. Sometimes, during an app setup, you may face an error code 301024 that could frustrate you. 
You will be happy to know that the fixing of this error code is easy, as you just have to apply some easy settings to fix it. Hurray!
Fix Error Code 301024- Setup Failed
The error code 301024 usually occurs when users try to set up a home app, either on their Apple Tv or iPhone. The error message might be appeared like "Setup Failed (301024). Try again later", or "This Apple TV needs to be authorized to join your Home. It will check with a trusted iOS device to proceed". This might be a result of a cache problem or an outdated version of your device.
Read: How to clear the cache on Apple TV.
Remove Your HomeKit Home
As a verified solution to fix error code 301024, you should try removing the HomeKit Home and creating a new one. 
Open the Home app on your device.
Click on the Home icon that will be on the top-left of the screen.
Now, select Home Settings, and scroll down and select the Remove Home option.
Confirm the selection by clicking on Remove in the next prompt.
Now, your HomeKit Home is fresh.
Create a new one and see if this fixes the problem.
Don't forget to read these guides:

How to update apps on your Apple TV

Fix Error Code 6753- Setup Failed on Apple TV or iPhone

Fix You're Running Out of Disk Space Error On Apple TV

How to check Apple TV storage

How to Clear Apple TV History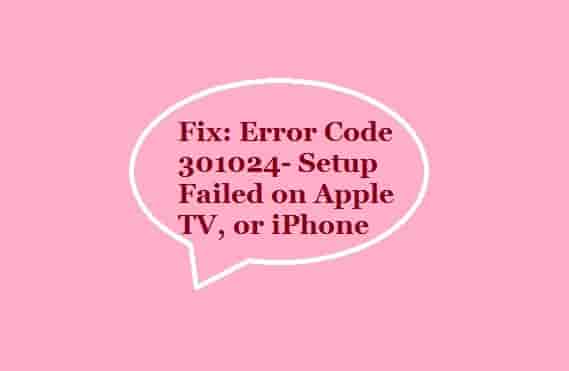 Additional Actions
Some steps that helped many users are listed below: might be helpful to you too.
When you go to set up an app on your Apple TV device or iPhone, make sure the iCloud keychain is enabled.
Always use iCloud Setup when performing a setup on your device.
Conclusion
Error code 301024 on Apple TV or iPhone device might be an indication of the setup failed. To fix this error, remove your HomeKit Home and create a new one, clear the Apple TV cache, check if the iCloud Keychain is enabled, and try to use the iCloud setup.