When you have many passwords and are difficult to manage and remember then, LastPass helps in this situation. But, sometimes LastPass may also have an error like 1603. Let's have a smile on our faces, as this error can easily be resolved.
What does LastPass Error Code 1603 mean?
LastPass Error Code 1603 usually means that the installation process has been interrupted or got failed. Some corrupted files, a pre-installed outdated version of LastPass, and the background running programs may be accountable for the incompletion of the installation process.
Now, the question is, what you should do to fix this error? So, as the simple answer, you have now understood what this error code means, so guessing, the fixing process should not be tough for you.
Also Read:

Fix LastPass session has expired

How to Fix LastPass Not Saving Passwords
Solution: LastPass Error Code 1603
These steps may help to fix the issue.
Uninstall LastPass using Control Panel.
Delete LastPass temporary files.
If you use LastPass Extension then, remove the extension.
Close Background Programs.
Try installing LastPass again.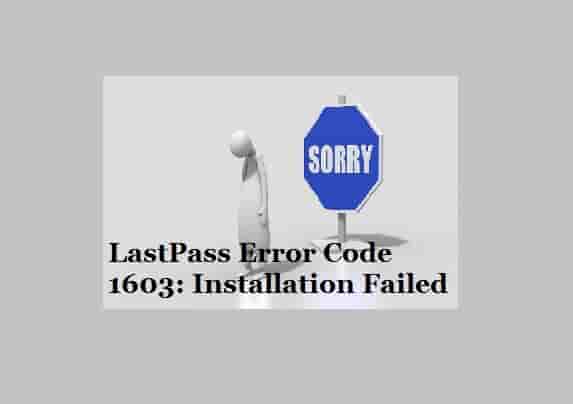 Uninstall LastPass
As the first step, you should uninstall the LastPass and its residual files completely from your system and then perform a fresh re-install.
Click on the Programs and Feature.
Next, find LastPass from the list and click on it.
Select, Uninstall option. 
Delete Temporary Files including LastPass Temporary Files
Open the Search bar and type Disk Cleanup and open the drive where you have installed the LastPass.
Now, check the boxes with the text option: Downloaded Programs Files and Temporary Internet Files.
Confirm your choice that you want to delete these files permanently.
Now, restart your computer and download a fresh copy of LastPass.
Remove Chrome Extension if you are using it
If you are using Chrome Extension of LastPass instead of the application then, remove it, and try again to download the LastPass.
Click on the three dots above on the screen and situated on the top right corner of the screen.
Select, More Tools and then click on the Extensions option.
Find the LastPass Extension and click on the Remove button.
Confirm the choice made by you and all done.
Close Background Programs
Open task manager and select the Processes tab.
Select the program that you want to close and right-click on it, and select End Task.
Now, go to Windows Security and select manage settings.
Click n the radio button to disable the real-time protection.
Next, Open Control Panel and follow this path: System and Security -> Windows Defender Firewall -> then turn Windows Defender Firewall on or off.
Now, try installing LastPass again and see if the appearance of the error code 1603 has been gone.